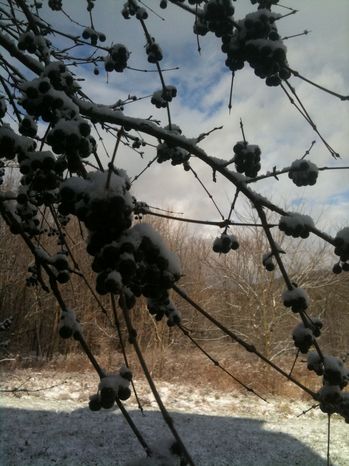 Here in the Champlain Valley we got the first dusting of snow. The mountains are open for snowboarding and winter is announcing its arrival with stalwart force. It's been slow to arrive and much of our "stick season" has seemed more like "mud season." If the snow persists and is followed by more we'll be out of stick season and into the long winter. But likely we'll be back to just "sticks" soon.
Just the other day, my dirt road was rutted with mud. Today those ruts are frozen. Such is the vicissitudes of the season. There is no rush to get to winter — its six-month long stretch giving us plenty of opportunity to practice "cold Buddha shivers." The winter here can be harsh despite global warming. We still have a few days where the mercury reads 20 degrees below zero without considering the wind. And the wind blows.
A couple of weeks ago I was reflecting on these seasons and how they have been affected by planetary warming. I wrote these lines about "Vermont November"
The leaves have fallen and
The long reach of winter has not yet arrived,
Stick Season.
Confused, as it is, thinks its mud season
The ground not yet frozen
Not even close mid-November
Still breathing warm air and sunshine
When it is not raining
And the rains have come
and could be snow
Except the world is warming
Polar bears float from Greenland to Iceland
Refugees.
Just as we are exiled from our truth.
Everyday.
Confused like the seasons.
Oozing mud instead of frost
Not sure if we are coming or going.
Trying to hold something still
that must move,
Always.
Here in Vermont we have constant reminders of impermanence. The weather, our teacher in this regard, is rarely the same from day to day, often from moment to moment throughout the day. This is much like our moods; volatile like Vermont weather. Again, impermanence in action. Since we know both the weather and our moods are going to change we can be interested in watching this process unfold. We have the opportunity to loosen our attachment and find whatever is happening interesting, even if it is at variance with what we expected or hoped for.
Interest gives birth to freedom in any moment we give it an opportunity to do so. Enjoy your freedom now.