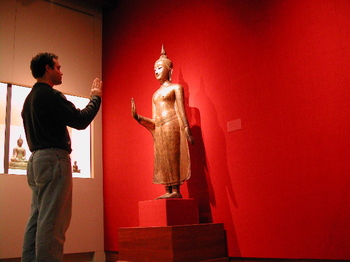 I am very happy to be here writing my blog on Mindfulness Matters: Tools for Living Now with Dr. Arnie Kozak. This blog will cover a range of mindfulness-related topics. It will present and comment on mindfulness, meditation, and Buddhist news, research, teachers, centers, books, and events. I will also comment on mindfulness and Buddhism in sport, especially golf with a particular emphasis of golf as a spiritual path. I will present metaphors for mindfulness from my book Wild Chickens and Petty Tyrants: 108 Metaphors for Mindfulness and new metaphors that will be featured in forthcoming book projects.
I am a mindfulness-based psychotherapist, meditation teacher, and author in beautiful Burlington Vermont. I founded the Exquisite Mind Psychotherapy and Meditation Studio in 2002 and this is a place where people come to learn mindfulness and benefit from its healing power. In 1985 I took the Bodhisattva vows from His Holiness the Dalai Lama in Bodh Gaya India, the holy pilgrimage place where the historical reached his awakening under the pipal tree some 2500 years ago. I was not alone. Also in attendance where 250,000 Tibetans from the exile community and others who had received permission to come to this special Kalachakra Tantra Ceremony. And then there were ten thousand or so monks and about a thousand Westerners from Australia, Europe, Great Britain, and the States. Since that time 25 years ago I have endeavored to fulfill that Bodhisattva obligation of attaining enlightenment for the benefit of others, sometimes better than others. This blog is part of that Bodhisattva path of helping others and to do so through sharing the wisdom of mindfulness. Mindfulness is the central practice that I use to work towards my own enlightenment. Vipassana meditation has been my practice of choice since 1989 when I sat my first ten-day silent meditation retreat with the formidable S. N. Goenka. I also approach my Bodhisattva nature by helping people in psychotherapy, teaching them how to use mindfulness and teaching people in an array of situations: workers in corporations, undergraduate students in psychology, medical students, medical residents, fellow mental health clinicians, and anyone in the community who is interested in bringing more mindfulness into their lives. In 2009, Wisdom Publications, a small and important dharma publisher, published my first book, Wild Chickens and Petty Tyrants: 108 Metaphors for Mindfulness. My second book, Swing Like You Don't Care: 54 Golf Axioms, Maxims, and Metaphorsis currently with an agent seeking a publisher. My third book will be the second edition of Everything Buddhism, part of the Everything Series.
Welcome to this journey into mindfulness. The information, commentary, and links that you will find on this blog serve as Tools for Living Now! For more information about my work, please visit my Exquisite Mind website.