Yes, that's right. Typewriters are making a comeback among digital generation folks. The New York Times reports a wave of interest in even manual ones, in "Click, Clack, Ding! Sigh . . ." by Jessica Bruder.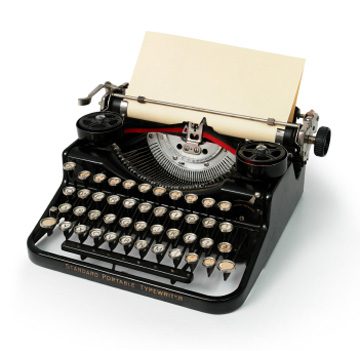 I'm not surprised about this, actually. It's just the beginning of a major wave that's coming, in which non-digital technologies will be rediscovered. Record player, here I come!
Why would people be interested in typewriters? Here's what some have said, according to the Times:
"You type so much quicker than you can think on a computer," Ms. Kowalski said. "On a typewriter, you have to think."

"It's kind of like saying, 'In your face, Microsoft!' " said Richard Polt, 46, a typewriter collector in Cincinnati.

"If I'm on a computer, there's no way I can concentrate on just writing, said Jon Roth, 23, a journalist who is writing a book on typewriters. "I'll be checking my e-mail, my Twitter." When he uses a typewriter, Mr. Roth said: "I can sit down and I know I'm writing. It sounds like I'm writing."
This is just the beginning, I'm telling you.