No, this is not some strange March Madness basketball score, though I must say I wouldn't put anything past this year's NCAA men's tournament. It has to be the strangest year on record.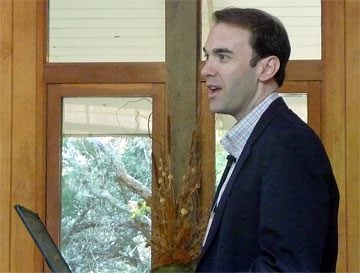 In fact, I'm referencing the fact that Texas is losing one of its finest leaders to Massachusetts. On Monday, the announcement was made that L. Michael Lindsay, sociologist at Rice University in Houston, Texas, will be the next President of Gordon College in Wenham, Massachusetts. This is big news for the kingdom of God, because Michael is one of the finest, young Christian leaders I know.
You might wonder why the score isn't: Massachusetts 1, Texas -1. Simple. Michael is a brilliant scholar, a visionary, an exceptional manager, and a fine man of God. Yes, he's only one person. But his impact on the world as an articulate Christian is worth at least 100 points.
I'm pleased to count Michael as a friend. He is also a close friend and partner of Laity Lodge and the developing Laity Leadership Institute. Thus, I am personally sad to see Michael moving away from Texas, even though he will live on the North Shore of Massachusetts, which is one of my all-time favorite spots. More importantly, Michael's new role as President of Gordon College is fantastic news for Christians who are committed to a wise, thoughtful, humble, and bold engagement with the world.
If you're not familiar with Gordon College, let me say that it is one of the leading Christian colleges in the country. The fact that they would choose Michael as their President tells you something important about Gordon. This institution is forward-looking, culturally-engaged, and kingdom-committed. Ironically, two of its graduates are among the finest and most influential sociologists in the world: Christian Smith (of Notre Dame) and James Davison Hunter (of the University of Virginia). Under Michael's leadership, Gordon College will take new steps forward in its contribution to the world as an instruments of God's grace and truth.
So, congratulations Michael! We'll miss you down here in Texas, but are thrilled both for you and for Gordon.
For an insightful write-up on Michael's new role and an exclusive interview, see Tim Dalrymple's article and interview at Patheos.com: "The New Game-Changer President of Gordon College."
Also, if you're interested in Michael Lindsay's views of leadership, an area of expertise for him, The High Calling just finishing an eight-part series featuring Michael on leadership. Here's is part one, with links to the other parts.