Today I want to change directions and talk about privacy, not in relation to the larger world, but as it concerns Christian community. I'm wondering to what extent individual Christians should to live their lives shielded from the scrutiny of their brothers and sisters in Christ. As a Christian, do I have a right to privacy? Or is my life supposed to be transparent to my fellow believers?
Before I answer these questions, I want to examine some relevant New Testament texts. These will provide a foundation for my thoughts about privacy in the Christian community.
Romans 12:15 Rejoice with those who rejoice, weep with those who weep.
1 Corinthians 12:26 If one member suffers, all suffer together with it; if one member is honored, all rejoice together with it.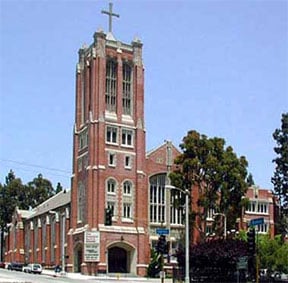 Both of these verses envision a Christian community that shares the deepest things of life together. This doesn't work if people keep their lives private. For example, I cannot rejoice with you unless you share the cause of your joy. And I cannot weep with you if you keep your sorrow to yourself. The Christian community is to be a place where "if one member suffers, all suffer together with it." This assumes a great deal of openness about our personal pain, which often involves matters we might consider to be "private." (Photo: The First Presbyterian Church of Hollywood, where I experienced the reality of shared suffering and shared joy when I was a boy and a young adult.)
1 Corinthians 6:15 Do you not know that your bodies are members of Christ? Should I therefore take the members of Christ and make them members of a prostitute? Never! 16 Do you not know that whoever is united to a prostitute becomes one body with her? For it is said, "The two shall be one flesh." 17 But anyone united to the Lord becomes one spirit with him. 18 Shun fornication! Every sin that a person commits is outside the body; but the fornicator sins against the body itself. 19 Or do you not know that your body is a temple of the Holy Spirit within you, which you have from God, and that you are not your own? 20 For you were bought with a price; therefore glorify God in your body.
It might seem odd to us that Christian men in Corinth were visiting prostitutes, but it wouldn't have seemed odd to them. In first-century Corinthian culture, it was common and considered morally acceptable for men, even married men, to use prostitutes for sexual pleasure. The Apostle Paul, who fathered the Corinthian congregation, not only believed that such behavior was wrong for Christians, but also that he had every right to address this behavior. There is no sense here that what one does sexually in private is one's personal business. Rather, it is God's business and therefore the business of God's people as well.
1 Corinthians 7:5 Do not deprive one another except perhaps by agreement for a set time, to devote yourselves to prayer, and then come together again, so that Satan may not tempt you because of your lack of self-control.
The next passage in 1 Corinthians addresses the question of sex within marriage. Some of the new Christians in Corinth associated sexual intimacy, even within marriage, with sinful behavior, and had unilaterally denied sex to their spouses. Paul urges spouses not to deprive each other sexually. Again, we see that even what happens between a man and woman in the marriage bed is not private, in the sense that it is their business alone. (We do not get from Paul the idea that marital intimacy should be observed by others, only that the ethics of such intimacy is the business of God's people.)
2 Corinthians 1:8 We do not want you to be unaware, brothers and sisters, of the affliction we experienced in Asia; for we were so utterly, unbearably crushed that we despaired of life itself. 9 Indeed, we felt that we had received the sentence of death so that we would rely not on ourselves but on God who raises the dead. 10 He who rescued us from so deadly a peril will continue to rescue us; on him we have set our hope that he will rescue us again, 11 as you also join in helping us by your prayers, so that many will give thanks on our behalf for the blessing granted us through the prayers of many.
In this passage for 2 Corinthians, we see Paul revealing his deep emotions to the Corinthians: despair, fear, discouragement. Since we live in a culture that tends to "show all," we might not see just how revolutionary Paul's openness about his own life really was. He models the kind of sharing of personal life that he expects from others.
Ephesians 6:4 And, fathers, do not provoke your children to anger, but bring them up in the discipline and instruction of the Lord.
This verse from Ephesians follows advice for children. Paul does not believe that one's relationship with one's children, our "parenting style," if you will, is a private matter. Rather, it is something that Paul feels both free and obligated to discuss.
James 5:16 Therefore confess your sins to one another, and pray for one another, so that you may be healed. The prayer of the righteous is powerful and effective.
James 5:16 calls for mutual confession of sins. Notice that this is not the sort of thing practiced in some Christians traditions, most famously the Catholic tradition, where people confess to a special confessor (priest). Rather, James 5:16 envisions such openness with Christian community that people feel free to share their sins with each other. This kind of sharing is a precursor to being healed of sinful behavior and tendencies. And it certainly involves not using a right to privacy as a way of not having to admit one's shortcomings to others.
Interim Conclusion
What we see in these New Testament passages, and I could bring forth others that are similar, suggests that within the body of Christ, privacy such as we know it is inappropriate. Some of the most private things in life – personal suffering, personal victories, sexual behavior outside of marriage, sexual intimacy in marriage, deep despair, and sinful behavior – are meant to be shared with others.
Tomorrow I'll reflect further on these findings. I'd be interested in any thoughts you might have along the way.