Facebook has been all over in the news this week. It made the cover of TIME, for example, with the story "How Facebook is Redefining Privacy." This article chronicles the astronomical rise of Facebook as well as the privacy crises it has engendered. (Photo: my dog enjoyed the TIME article)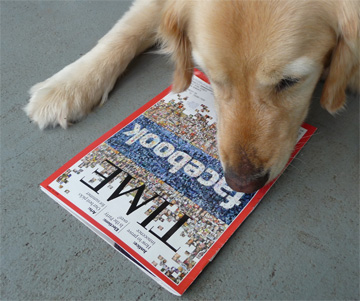 Facebook even managed to get a letter from four U.S. Senators (Schumer, Franken, Bennet, Begich), who, presumably, had so little to do that they took the time to write to Mark Zuckerberg, CEO of Facebook. In this epistle the senators complained about Facebook's privacy policy and said they "look forward to the FTC examining this issue."
Then, on Wednesday of this past week, Facebook announced the roll out of simplified privacy controls. Soon it will be easier for Facebook members to limit what is known about them. Senator Charles Schumer, one of the original letter writers, was quick to praise Facebook: "This is a significant first step that Facebook deserves credit for."
I'm sure we'll be hearing much more about privacy on Facebook in the days to come, as both U.S. Senators and ordinary citizens evaluate the new privacy tools. Of course this is just one small piece of a much larger and important conversation about privacy in the age of the Internet and social media.
But, near as I can tell, one part of that conversation has been largely missing. So far, there has been little theological reflection on the whole notion of privacy. Psychologists, sociologists, politicians, business leaders, and pundits have weighed in about privacy. But theologians, biblical scholars, and pastors have been mostly keeping their thoughts private, so to speak. (I did find, ironically enough, a Facebook discussion on the topic: What is a biblical theology of privacy? But it's more than two years old, with only 11 posts, and not much theological reflection.)
So, I've decided to do some thinking on this issue, working towards a biblical theology of privacy. I have lots of questions swirling around in my mind, such as: Is privacy important from a theological point of view? Does the Bible have anything to say about privacy? Is privacy good, theologically speaking? Is it bad? Is it neutral? Should Christians be concerned about preserving privacy? Or should we be glad that things are becoming less private than they might have been a few years ago? What does God have to do with privacy . . . and privacy with God?
Today I'm launching this series on privacy and God. I will pick it up again on Tuesday, after Memorial Day is over. In the meanwhile, I'd be interested in any thoughts you might have on God and privacy. If you're willing to share them publicly, please leave a comment below. Or you can tweet your ideas, using the Twitter hashtag #privacyandgod. (Remember, your tweets will be forever archived in the Library of Congress. No joke.) If you want your thoughts to remain private, send me an email.
One closing thought. Privacy certainly isn't something we get to experience in our relationship with God, at least not in the sense that our lives are hidden from God. We know that "the Lord looks on the heart" (1 Sam 16:7). Moreover, we read in Hebrews 4:12-13:
Indeed, the word of God is living and active, sharper than any two-edged sword, piercing until it divides soul from spirit, joints from marrow; it is able to judge the thoughts and intentions of the heart. And before him no creature is hidden, but all are naked and laid bare to the eyes of the one to whom we must render an account.
Not much privacy here!