Yesterday was my dad's birthday. He would have been 78 years old. But cancer took his life 24 years ago, when he was only 54. So my dad hasn't been around to celebrate his birthday for a long time . . . too long.
We celebrated my dad's birthday by going out for Thai food. He loved Thai food, and so do my wife and mother (who is visiting us). So we ate in his honor, enjoying the meal, but wondering what it would have been like if he had been with us.
I miss my dad on his birthday. It isn't the same kind of missing that I felt shortly after he died, a sharp pang of sadness or a deep, bottomless pit of longing. Now my feelings are more of a distant sadness, a wistfulness, an unfulfilled desire to share my life today with my dad.
It seems strange that one who was so central to my life is now so absent from it. My dad did get to know my wife, and did participate in our wedding. Shortly thereafter his cancer worsened, and he died not long after my wife's and my two-year anniversary. I'm glad that my dad was able to share in the joy of my wedding and early years of marriage. I know he was thrilled that I married Linda, because when I announced my engagement, my dad said "Great!" For him, a man of few words, that was like setting off a hundred fireworks. "Great" meant "I am so pleased and so excited for you. Wow! Excellent! Fantastic." After years of knowing my dad, I was able to translate "Great" into a brass band with 76 celebratory trombones. (Photo: my favorite picture of my dad and me)
But so much has happened since 1984, so much that I have never been able to share with my dad. He wasn't there when Linda's mother was stricken with cancer and died, less then two years after my dad. He wasn't present when I was ordained as Presbyterian pastor. He never knew that I became the pastor of Irvine Presbyterian Church, and he never heard me preach in a Sunday morning service in any church. He never saw the Sanctuary we built at Irvine, or knew any of my friends there (save for Biff and Pam, who were once in a small group with my parents).
My dad never read any of my books or any posts of my blog. (In fact, he never knew knew about the Web, though, as a computer analyst, he probably heard about the Internet.) My dad never saw my house in Irvine, or met our dog and cats. He wasn't around to advise me when I was trying to figure out if God was calling us to Texas. And he wasn't there on my final Sunday at Irvine Pres, even as he missed my first Sunday. (Photo: my son, Nathan, and me.)
I missed being able to share these experiences with my dad. But, most of all, I am grieved by the fact that he has never met my children, and they have never met him. My dad, who always enjoyed kids, would have been a fantastic grandfather. He would have loved my children lavishly, and they would have loved him. In truth, my children experience my dad through me, in my strange sense of humor, in my commitment to them, and in my effort to be present in their lives. Sometimes, when I am praying with my children, I can feel myself as an embodiment of my dad, and this is a sweet feeling. But this isn't the same as seeing my dad with my kids, something I won't experience this side of Heaven.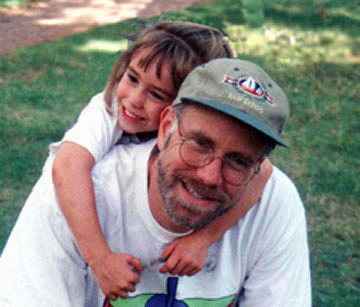 Years ago, when my son, Nathan, was about four, we were taking a walk together. For some reason, he asked me, "Daddy, to you miss your dad?" "Yes," Nathan, "I do." "Where is your dad?" he wondered. "He's up in heaven, with Jesus" I said. "Well," Nathan responded after some moments of reflection, "why don't we find a big, big ladder so we can climb up and see your dad!" I've never been able to find that ladder. I wish I could. (Photo: my daughter, Kara, and me.)
When I miss my dad, I also feel grateful for the fact that my mother is still very much alive. I'm thankful for my siblings, with whom I can share happy memories as well as present missing. I'm grateful for those men who have been like fathers to me since my dad's death.
Even more, I'm thankful for my dad, who loved me faithfully, who lived a life worthy of emulation, and who helped me in countless ways to become the person I am today. I only wish he were here so we could celebrate his birthday together.