On a recent trip to California, where I was speaking at a retreat at Mt. Hermon Christian Conference Center, I saw a couple of unusual sights.
The first was a Banana Slug. If you haven't seen one of these before, you can guess the origin of its name. Three different species of the Banana Slug inhabit the rainforests of the Pacific Northwest, spanning from California to British Columbia, Canada. These slugs can get to be quite large. The one in the picture above was about five inches long. I've seen them get up to eight inches.
The Banana Slug is, by the way, the official team mascot for the University of California at Santa Cruz. The unofficial mascot for years, in Banana Slug received official university endorsement in 1986 after a vast majority of students preferred to be called the Banana Slugs rather than the Sea Lions. In May 2004, Reader's Digest named the Banana Slug as the best college mascot. (Don't tell that to the Longhorns or the Trojans!)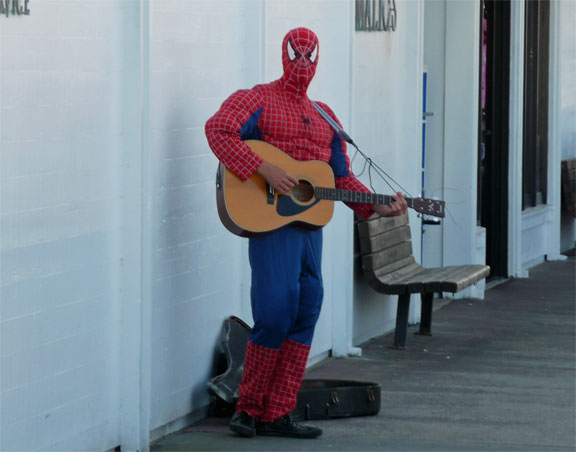 While strolling along the Municipal Wharf in Santa Cruz, California, I happened upon this sight. There was Spider-Man, in the flesh, playing his guitar in the hope of receiving gratuities in his guitar case. Spidey, not surprisingly, is a decent guitar player, as long as he doesn't get webbing all over the strings.
We all know that the economy in California is especially tough these days. But things really must be bad when a superhero of Spider-Man's status has to make a few extra bucks by serenading his fans for tips.