Today I want to put up some excerpts from the latest police blotter as they appeared in The Boerne Star, my local newspaper. I have not changed these one iota.
March 3
3:14 p.m., 200 Market – A woman reported her ex-boyfriend was probably the one who had stolen her cell phone.
3:52 p.m., 200 Winding Path – A not-too-bright collection agent left a message on a woman's phone saying, "I have a gun. Oops, I probably shouldn't of said that on this ladies' voicemail." She turned the number he called from over to the police.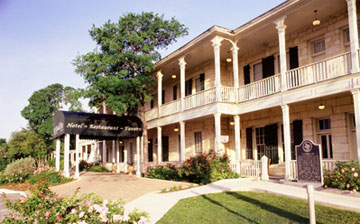 7:02 p.m., 100 W. Blanco – A caller felt a man wearing dark clothing while standing in the street taking pictures of the historic inn was in danger because she had almost hit him. He wasn't in the road when police arrived, but they gave him some safety advice. (Photo: The same historic inn, with picture taken in safe daylight)
March 4
5:02 a.m., 700 E. Theissen – A woman asked police to investigate what someone threw in her trash that smelled really bad. Animal control was contacted to remove the dead skunk that was raising such a stink.
10:47 a.m., 31200 I-10 – A 911 hang-up call was determined to have come from a malfunctioning fax machine.
11:02 a.m., 31200 I-10 – The miscreant fax machine was at it again.
2:42 p.m., 100 Third – A man told police he was trying to leave during an argument with his wife, but she wouldn't let him go. Then she left to cool off.
6:46 p.m. 100 Menger Springs – Police were called when a young man jumped out of an ambulance and ran away from the emergency room. He was found and returned.