This last weekend we were pleased to welcome Michael Card back to Laity Lodge. Michael, as you probably know, is a highly-regarded Christian singer/songwriter. Among his best known favorites are "El Shaddai," "Immanuel," and "Joy in the Journey."  Michael has also written many fine books, including the Gold Medallion Book Award winner, A Sacred Sorrow.

At Laity Lodge, Michael was both the musician and the speaker for the retreat . . . a heavy load that he bears admirably. If you know his music, you won't be surprised to learn that he is a top-notch Bible scholar. Michael's combination of expertise and enthusaism makes his Bible teaching a delight. During our retreat, he focused on the Gospel of Luke, using this text to help us learn to read the Bible with accuracy and imagination.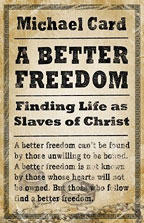 We were pleased to have access to some of the first copies of Michael's newest book,
A Better Freedom: Finding Life As Slaves of Christ
.  He taught the basic content of this book last year at Laity Lodge, and it was enlightening and challenging. Michael brings the highest level of scholarly acumen to this study, and comes up with conclusions that call us to a new level of commitment to Christ. I highly recommend this book, which is now available from
Amazon.com
.
While you're at it, be sure to check out one of Michael's latest endeavors,
The By/For Project
. This project features a website that includes works of music and visual art that is "by the church and for the church." Everything on this website, includes works by world-class artists and musicians, is offered for free.