I went to see Harry Potter and the Half-Blood Prince today with my family. As most of you know, this is the sixth of the Harry Potter films. And as you might have heard, it is surely one of the better movies in the series.
I thought I'd share a few comments with you. I'll be sufficiently vague so as to avoid serious spoilers.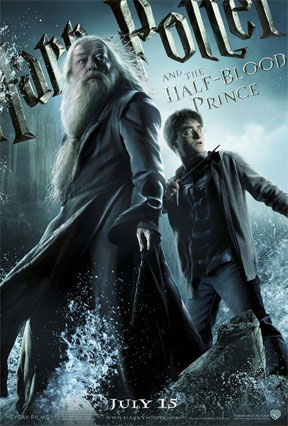 Comment #1 – As always with the Harry Potter movies, The Half-Blood Prince is  about one-fifth as entertaining, thought-provoking, clever, and moving as the book. I always find this a bit disappointing when I see a Harry Potter film, though I'm not faulting the screenwriters or the filmmakers. It's simply impossible to capture the richness of J.K. Rowling's writing in a movie with a realistic length. (This one is just longer than two and a half hours, as is.)

Comment #2 – The characterizations of and relationships among the three main figures (Harry, Ron, and Hermione) are outstanding. The parts are well-written, well-directed, and well-acted.
Comment #3 – Some guy named Mark Roberts was part of the Visual Effects and Animation crew for the movie. I was excited to see my name in the credits.
Comment #4 – The depiction of teen romance was over-the-top, but delightful and often hilarious. I laughed more in this Harry Potter film than in any of the others, I think.
Comment #5 – As you would expect, there are some fantastic special effects in this movie (thank, in part, to that Mark Roberts guy). But the effects did not overpower the movie.
Comment #6 – I sometimes wonder how anyone can follow a Harry Potter filme without having read the associated book first. I highly recommend that you don't see this film until you have read the book.
Comment #7 – My biggest gripe, by far, with the Harry Potter movies is the depiction of Albus Dumbledore, especially the characterization of Dumbledore by Michael Gambon. I wish I could say that
The Half-Blood Prince
is different, but I can't.  Albus Dumbledore is one of the most delightful, fascinating, mysterious, funny, and loving of literary characters. But in the Potter movies, he comes across as relatively flat. This is too bad, especially given Dumbledore's crucial role in
The Half-Blood Prince
. It's too bad that we rarely taste Dumbledore's sparkling wit or his deep, fatherly love for Harry. Rats!
Comment #8 –
The Half-Blood Prince
is a great set-up for the final Harry Potter movies. As you may know, the seventh book will be portrayed in two, count 'em, two full-length films. 
The Half-Blood Prince
wonderfully whets one's appetite for what is still to come.
Comment #9 – I'd give
The Half-Blood Prince
four out of five stars. There are some great scenes in this movie, which is generally well-acted and well-filmed.