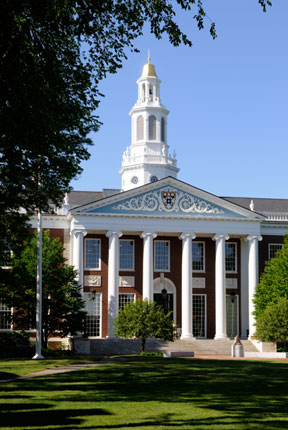 A recent article in the New York Times focused on a group of soon-to-be graduates of Harvard Business School who have signed an oath promising to "serve the greater good" as business leaders (HT: Susan McCool). According to the Times, almost 20 percent of the graduating class have signed "The M.B.A. Oath."
Why are they doing this? According to The MBA Oath website, the idea for this oath came from HBS students who were inspired by the 100th anniversary of the MBA program and distressed by the absence of business leadership that might have staved off the global financial crisis. The students started asking questions like: "How did we get into this crisis? Why didn't business school professors sound the alarms in advance of the meltdown? Why were so many MBAs involved in the decisions leading up to the crisis? Are MBAs so concerned with increasing their personal wealth that they ignore ethics and their responsibilities to society?" (Photo: Baker Library of Harvard Business School)
With such questions in mind, several students me with a couple of HBS professors, one of whom had recently written an article calling for a "rigorous code of ethics" for managers. The students and professors decided to get at least 100 HBS grads to sign an MBA Oath. They hoped that such a "small campaign" might "make a meaningful impact in the lives of those students and it might send an important message to the world about how attitudes are changing at one of the most well-known MBA programs." At this point, over 160 students have signed on to the oath.
The oath comes in two version, a shorter and longer version. The full version is about 500 words; the shorter version is half as long. I will bring the shorter version here. You can find the longer version at this link.
The Harvard Business School MBA Oath, Shorter Version
As a manager, my purpose is to serve the greater good by bringing people and resources together to create value that no single individual can build alone. Therefore I will seek a course that enhances the value my enterprise can create for society over the long term. I recognize my decisions can have far-reaching consequences that affect the well-being of individuals inside and outside my enterprise, today and in the future. As I reconcile the interests of different constituencies, I will face difficult choices.
Therefore, I promise:
• I will act with utmost integrity and pursue my work in an ethical manner.
• I will safeguard the interests of my shareholders, co-workers, customers, and the society in which we operate.
• I will manage my enterprise in good faith, guarding against decisions and behavior that advance my own narrow ambitions but harm the enterprise and the societies it serves.
• I will understand and uphold, both in letter and in spirit, the laws and contracts governing my own conduct and that of my enterprise.
• I will take responsibility for my actions, and I will represent the performance and risks of my enterprise accurately and honestly.
• I will develop both myself and other managers under my supervision so that the profession continues to grow and contribute to the well-being of society.
• I will strive to create sustainable economic, social, and environmental prosperity worldwide.
• I will be accountable to my peers and they will be accountable to me for living by this oath.
This oath I make freely, and upon my honor.
What do you think of this oath? I'll offer further observations tomorrow.