My last couple of posts focused on Scot McKnight in light of his recent visit to Laity Lodge. Today I was pleasantly surprised to discover that Scot blogged on Laity Lodge.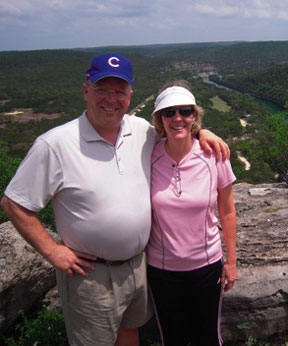 I want to highlight his post, not only because he liked Laity Lodge, but also because of what he said about it. I can blog and blog and blog about how great Laity Lodge is, but you might wonder if I'm biased since I am the Senior Director of Laity Lodge. Scot is an outsider, and one who has seen plenty of Christian retreat and conference centers. His opinion counts for a lot, at least in my book. (Photo: Scot and his wife on Circle Bluff, with the Laity Lodge retreat center way in the distance along the river.)
Here are a couple of excerpts from Scot's post, which is entitled: "Sacred Space in Texas: Laity Lodge":
If I were a pastor or a youth pastor, if I were a small group in Texas, and if I lived within 500 miles of Laity Lodge — I'd do everything I could to get folks to spend a weekend retreat at this beautiful setting in the hill country of Texas.
We took a long hike up to Circle Canyon (?) [Circle Bluff] and we admired for lengthy spells the hummingbirds … and the awesome water in Frio River … and sights and sounds. All in all, Laity Lodge is sacred space for so many people and we are honored to say we've been there. The colors, the architecture, the setting … aesthetics at work.
Think about taking your group there … we've even thought of how we can get folks from up this way to go down for a retreat.
So, there you have it, a first-timers's review of Laity Lodge. It is, truly, one of the most wonderful, restful, restorative places on earth. I believed that long before I joined the staff. In fact, that's one major reason I joined the staff. What a privilege it is for me to help steward one of God's gracious gifts!
By the way, we still have some room left in a few of our summer retreats. You can find the schedule here. Why not join us this summer for solid teaching, fantastic music, delicious food, warm friendship, and unsurpassed refreshment of your soul?  (Photo: Laity Lodge from the bank of the Frio River.)