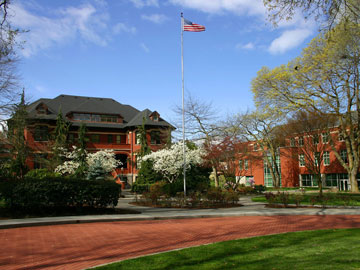 I was in Seattle this week for meetings at Seattle Pacific University. Several of us who are associated with Laity Lodge got together with SPU faculty from various disciplines: business, economics, organizational psychology, theology, brain science, and marriage and family. We discussed our common vision for the integration of theology, psychology, and business, especially with regard to raising up servant leaders who are living out their faith in every part of life (Photo: SPU in the spring.)
For some time, I have been aware that SPU was doing some ground-breaking work in the area of faith and business, but I was impressed by how the School of Business and Economics, in partnership with other SPU departments, has developed a new vision for faithful free enterprise. The motto of the business school is: â??Another Way of Doing Business.â? They explained what they mean thus:
[I]n the School of Business and Economics (SBE), we start with the premise that the purpose of business is to serve. In particular, it is to serve the community by providing the goods and services that will enable the community to flourish (an external goal). It also serves by providing meaningful and creative work that will allow employees to express aspects of their identity on the job (an internal goal).
This philosophy of service reverses the dominant paradigm. Profit generating continues to be critically important but no longer as the end of the business activity. Rather, it is the means by which sufficient capital is attracted to the organization to allow the organization to do what it should be doing â?? that is, to serve. Shareholders are entitled to a fair return on their investments as the means to the ends of serving customers and employees.
Of course, efficiency, revenue generation, and profit-making remain critically important aspects of any business. Profit is as essential to the health of an organization as air is to the health of a human being. Without air, no matter how noble his or her aspirations, a person will die. This does not, however, mean that breathing is the ultimate goal of human existence. Likewise, generating profits is essential but not the appropriate â??endâ? of the business enterprise. [Excerpt from an SBE brochure.]
If you find this intriguing, and I certainly do, Iâ??d highly recommend that you listen to an address by Jeff Van Duzer, Dean of SBE. Itâ??s on the topic: â??How Business Contributes to Human Flourishing.â? You can download the MP3 here or at this iTunes link.
I was struck, not only by the vision for business at SPU, but also by their commitment to interdisciplinary conversation about business (and other matters). In academic institutions, itâ??s rare for members of the business, psychology, neuroscience, and theology faculties to work together on projects of mutual interest. It almost seems as if they don't have mutual interests. SPU is to be highly commended for their exemplary effort in this regard.
Seattle Pacific University is a Christian school with historical associations to the Free Methodist Denomination. The universityâ??s statement of faith explains that they are â??historically orthodox,â? â??clearly evangelical,â? â??distinctively Wesleyan,â? and â??genuinely ecumenical.â? I know that several of their faculty are Presbyterians, so the Wesleyan commitment of the university does not shut out those of us with Reformed leanings.
If youâ??re considering a career in business, Iâ??d highly recommend that you check out SPU for undergraduate or graduate education. As a plus, youâ??ll get to live in Seattle, one of my favorite cities (in spite of its well-earned reputation for drizzle, balanced by its equally well-earned reputation for coffee and seafood).