A couple of weeks ago I spoke at the Texas Capitol Fellowship, a gathering of Christians who work in the Texas state government. The Capitol itself looked beautiful as spring has just begun to dawn in Austin. In the photo below you can see the Redbuds blooming . . . one of my favorite spring events.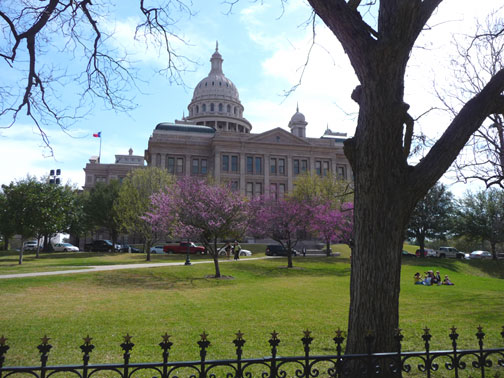 In case you're unfamiliar with the Texas Capitol, I'll mention a few fun facts:
• When it was built in the 1880s, it was claimed to be "The Seventh Largest Building in the World." Whether that was true or not, who knows? But you've got to admire the unusual humility of the Texas who thought it was only the seventh largest building.
• It is often claimed that the Texas Capitol is the tallest capitol building in the United States, taller even than the U.S. Capitol in Washington D.C.  At 308 feet tall, the Texas Capitol is taller than the U.S. Capitol, which is "only" 289 feet tall. But the Louisiana Capitol is a whopping 450 feet tall.
• The Texas Capitol is the largest state capitol building in size, at over 360,000 square feet.
• The exterior walls of the Texas Capitol are pink granite mined from nearby Marble Falls, Texas. A friend of mine is a descendant of the owners of the granite quarry who donated the stone for the Capitol.
Deja vu? If you think you saw this post on Monday, you're not crazy. I put it up accidentally for an hour or so. It was supposed to go up today.