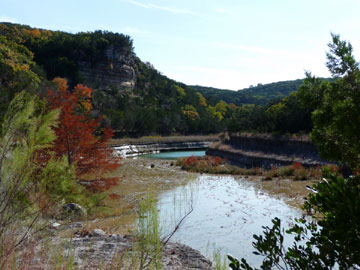 Laity Lodge is, quite intentionally, a lo-tech place. We don't have cell service in the Frio Canyon where Laity Lodge is located, and we don't want it. If people need to make phone calls, they can use pay phones! We don't have televisions. We have a few computers with limited Internet access . . . only for emergencies. Our hope is to give people on retreat a break from the ever-present interruptions of technology. If folks can stop checking their email for a weekend, just maybe they'll be quiet enough to hear from God! (Photo: The Frio River alongside Laity Lodge in autumn.)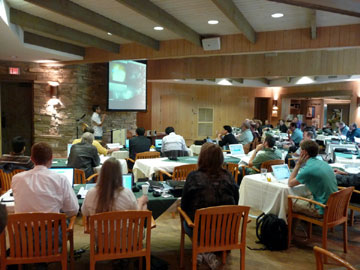 But this week we've had a very unusual retreat at Laity Lodge. The
Global Christian Internet Alliance
has been meeting here. This is an international network of ministries using the Internet to further the cause of Christ. It is sponsored by
Christianity Today International
, the organization that published
Christianity Today
magazine and so very much more. GCIA met in the Cody Center of Laity Lodge, a space usually reserved for low-tech art and music. But, this week, the room was filled with computers connected by wi-fi to the Internet.
GCIA members spent most of the time sharing their ministries: a wide-ranging collection of Internet-based efforts. There was an extensive presentation on
GodTube
and its future. Participants came from across the globe, including:
Chile
,
Germany
,
France
,
Sweden
,
Brazil
,
Korea
,
India
,
Canada
,
Costa Rica
, and
the Netherlands
. The links I've supplied are just examples of the many ministries represented at the retreat.
There was also a conversation about the sociological and theological implications of the new media. It was led by Heidi Campbell, a professor at Texas A&M University who specializes in religious use of the Internet. Check out her fascinating website:
When Religion Meets New Media
.
It was great to have such a diverse group of visionary Christians out at Laity Lodge. I'm impressed by their creativity and commitment to Christ. Kudos to Christianity Today for their bold vision and efforts to communicate the gospel across the world.
If you're a Laity Lodge fan, don't worry. By next week the Cody Center will be returned to its quiet and peaceful norm. The Internet will be turned off. And Laity Lodge will be back to low-tech. But it's been an honor for us to offer hospitality to this hi-tech bunch from around the world.