One of the many things I loved about Irvine Presbyterian Church was the diversity of our worship. Two of our Sunday morning services featured a wonderful choir with music in a more traditional vein, as well as more contemporary praise music. Our Sunday evening Evensong service included traditional anthems and selections from the Book of Common Prayer. Our Veritas worship service was led by an incredible worship band called Shine Like Stars. Though I've never been a big "rock and roll" guy, I deeply appreciated Shine Like Stars.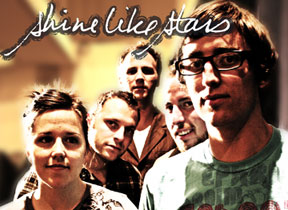 When we moved to Texas a year ago, one of my losses was being led in worship by "Shine Like Stars." I missed their music and their heart. Now I can have a good bit of their music, and even their heart. And so can you. Shine Like Stars has recently released their first CD, See You There.
If you like energetic, high-quality rock music, then See You There will be right up your alley. But, if you're like me, you'll be especially drawn to the lyrics of this album. The songs were written by Dale Huntington, the acoustic guitarist and vocalist of Shine Like Stars. Dale, in addition to being a fine musician, is an excellent poet and budding theologian. He works very hard on his lyrics, making sure that his words are true and inspiring. Let me provide a few examples from See You There:
From "God of Rembrandt"
Now we've come to worship only You,
God, You're whom we praise.
You're creative, made the heavens,
The oceans and the waves.
He is the one who made creation
Awesome is His name
Our God formed the world with pleasure
All so we might say:
That "We love you.
You made life beautifully.
Painted skies reveal your artistry.
The ocean song inspires our melody
We'll reflect your art.
All the world will see.
So take our offering."
From "Bound to Be Holy"
Here, in the light of Your mercy, we offer You our all.
Here, we devote to You our bodies, a breathing sacrifice.
We devote to You our lives.
We are bound to be holy, as You are holy.
Let Your grace transform our hearts and our minds.
For we long to be holy, for You are holy.
Set apart and purified in You.
From "Not Only in a Song"
Lord, we come before You broken servants in this place.
How could sinners just like us, one day see Your face?
And Lord we fail You every day and often does our faith,
Though when our sin abounds, so abounds Your grace.
Help us, Lord, to worship You not only in a song
But how we live our lives, God of our Salvation
And help us Lord to worship You for You're our sacrifice
The only Lamb of God, our Savior Jesus Christ.
These lyrics show the quality of theological integrity you'll find throughout See You There.
You can purchase this album from several sources, including: iTunes (download), Amazon (download), and CD Baby (CD). I hope you do. Also, be sure to tell others, especially your church worship leader(s) about See You There.