Yesterday I put up a story about the strangest job I ever had: trimming the grave marker of my boss, Mrs. Bivans. Today I want to jump off from that story to marvel on the wonders of the Internet.
I don't remember much about Mrs. Bivans. I know her last name. I know that she lived in a giant house on Cleveland Rd. in Glendale, California. I know that her husband was buried in a nearby cemetery, and that he was a successful businessman . That's all I remember.
Just for fun, I thought I'd try to see if I could learn anything about Mrs. Bivans from the Internet. I Googled on "Bivans Glendale." 519 links appeared. The first was for the Bivans Corporation, which is the company founded by Mrs. Bivans's husband (or, at least, by one of his relatives).
The next link was to freepatentsonline.com, a website that lists patents. According to this link, Elbert L. Bivans invented an "Accumulator for Cartoning Machine" and had it patented in 1970. I was not sure whether this man was Mrs. Bivans's husband or some other Bivans relative.
The rest of the "Bivans Glendale" links didn't seem especially helpful, so I decided to try and find Mrs. Bivans's house on Google maps. Using the Satellite function, I scanned the homes in the area where Mrs. Bivans lived. I'm almost sure I found her home, though I can't be positive. I did find a house on Cleveland Rd. that has a pool and tennis court in the locations I remember, more or less. Then I summoned up Google Earth, which allowed me to zoom in on the property and get its precise coordinates. It looks like the property has not been kept up since I was last there in 1974. The pool appears to be empty and the tennis court, no longer with stripes, is cracked and aged.
While looking for Mrs. Bivans's house on Google maps, I noticed that Grand View Memorial Park was right around the corner. Surely that was the cemetery where Mrs. Bivans's husband was buried. Googling on "grand view memorial park," I was surprised to find several web entries, including one called "Grand View Memorial Park (dot) Info." This site describes itself as: "A source guide for news and information about Glendale CA's oldest, and currently troubled, cemetery." Well, it turns out that what bothered Mrs. Bivans in 1974 got much worse, so much so that the cemetery was closed to visitors because the grounds were so poorly kept up that they were deemed a safety hazard in June 2007. In 2005 it was discovered that approximately 4,000 bodies buried at Grand View were not properly interred (whatever that means).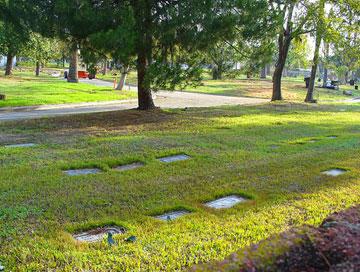 The Grand View Memorial Park (dot) Info website contains links to many photos, including the ones in this blog entry. The photo I posted yesterday of overgrown grave markers also came from this website, ironically enough.
On the Google page that came up in response to "grand view memorial park," I noticed a link to "Find a Grave." Could I find Mr. Bivans's grave through this site? The link led me to page of famous people buried at Grand View, a group that did not include Mr. Bivans. But I noticed a note that said if I was looking for someone who wasn't famous, I should visit the main "Find a Grave" website. Clicking on "Search 22 million grave records," I was taken to a page where I entered "Bivans" and "USA" and "California."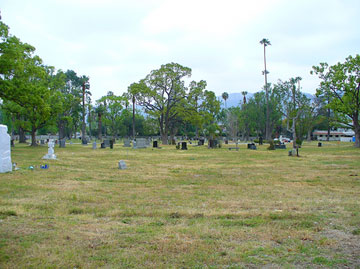 Lo and behold, my search returned three entries, including Bivans, E Litton (b. 1908 d. 1971) and Bivans, Gail Roy (b. 1904 d. unknown), both of whom are buried in Grand View Memorial Park. Voilà! Immediately I remembered that Mrs. Bivans's full name was Gail Roy Bivans. When I worked for her, I thought it odd that her middle name was what I considered a man's name. It seems that my visit with Mrs. Bivans to the cemetery came three years after her husband's death at the too-young age of 63. Mrs. Bivans died later, and was buried with her husband at Grand View.
Next, I Googled on "Gail Roy Bivans" and "Gail Bivans." Nothing came up, except a gift of some photographs once given to "Mrs. Gail Bivans," who in turn donated them to the Colorado Historical Society. It does appear that the father of the man who gave the photos to one Mrs. Gail Bivans lived in California. But I cannot determine whether she is the same Mrs. Bivans I knew. It would be consistent with her character to give generously to a museum, but who knows?
Next I searched for "litton bivans" on Google. Sure enough, I found that an Elbert Litton Bivans had invented and patented a Pepper Mill in 1946 and a box-making machine in 1954. The Bivans Corporation, presumably founded by Mr. Bivans and still in existence today, sells cartoning machinery. Mr. Bivans was also one of the trustees of California State University, serving until 1971, the year of his death.
After it seemed as if I had exhausted what I could learn from Google, I went to the Los Angeles Times website. I searched the archives for "Bivans," and found an obituary dated February 2, 1992. I took a chance and purchased the article. There I found among those who had recently died: "Bivans, Gail R., 87, of Glendale, homemaker. Scovern Mortuary, Glendale." I also found a letter to the editor dated August 30, 1987 from Radford Bivans, who identified himself as President, Bivans Corp. Perhaps he was a child of Mr. and Mrs. Bivans. Surely he was a relative, since Bivans isn't a common name.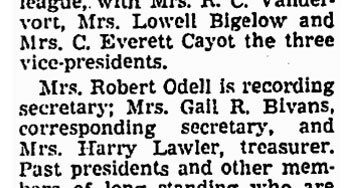 I found another article from the Los Angeles Times dated June 12, 1943. This article, entitled, "New Units of Voters Pick Chiefs," identifies a Gail R. Bivans as the corresponding secretary for the Los Angeles League of Women Voters.
So, thanks to the Internet and a free hour, I now know lots of things about Mrs. Bivans that I hadn't remembered or even known before:
Her full name: Gail Roy Bivans
The date of her death: February 2, 1992 (about 18 years after I worked for her)
The place of her burial: Grand View Memorial Park
Her husband's name: E. Litton Bivans
Her husband's ability: inventor
The likely state of her former home: poor
The condition of the family business: good
The name of a likely son: Radford
Her political involvement: League of Women Voters
I also learned that Grand View Memorial Park, which, according to Mrs. Bivans in 1974, did a poor job of upkeep, got so bad that it was closed to visitors, and is only now being re-opened.
Isn't the Internet amazing? When I'm doing fun searches like I just did, I'm reminded of the treasure hunts I loved as a kid.