In this season of voting, many Christians are weighing in on their preferences. Near my office in Kerrville, Texas, I noticed a church sign that uses the voting metaphor to encourage church attendance: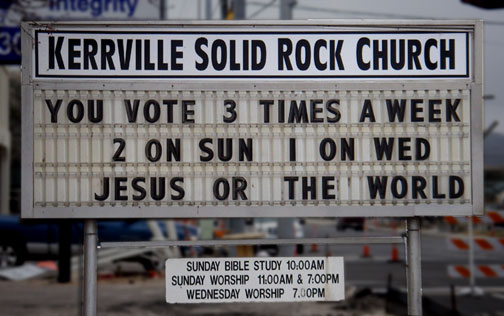 Indeed, we do "vote" when we decide to join with God's people for worship and/or Bible study. Now that I don't have to go to church on Sunday, I am more in touch with the temptation to "vote" for the world by vegging out on a Sunday morning. But, so far, Jesus is beating the world in my Sunday morning polling booth.

I wonder, though, if we Christians don't cast our votes for Jesus or the world many, many more times each week than simply three. Yes, we vote for Jesus when we choose to go to church. But don't we also vote for Jesus when we choose to give a chunk of money to some Christian cause rather than spending it on ourselves? And don't we also vote for Jesus when we decide to tell the truth at work rather than spinning things in a self-serving way? And don't we also vote for Jesus when we choose to forgive a relative who has wronged us? And what about our goals? our daily disciplines? our use of our leisure time? our driving habits? etc. etc. etc. Aren't these all opportunities to vote for Jesus?
I'm pleased to be part of a ministry that stresses "the high calling of our daily work," which includes both work for pay and all of that in which we invest our personal effort. Yes, it's part of our calling to attend church and Bible study. But working in the world in service to the Lord is equally part of our high calling. (For more encouragement in this regard, be sure to check out
http://www.thehighcalling.org/
.)
So, yes, by all means vote for Jesus when you have to choose between being with God's people and frittering away your time on inessentials. But be sure to vote for Jesus, not just three times a week, but
every time you choose to do anything
!