Beginning today, I have a new daily devotional. It's found at The High Calling. This website is part of the larger ministry of Laity Lodge (and the HEB Foundation), where I am now serving as Senior Director and Scholar-in-Residence.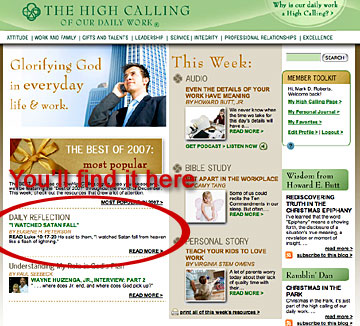 I'll be writing what is called the Daily Reflection. The format will be very much like the format of my former devotional websites, Pray the Psalms and Pray the Gospels. You can find my Daily Reflections at the main page of The High Calling. Just look for the Daily Reflection link.

But there's an added bonus for you in my joining up with
The High Calling
. If you wish, you can become a member of
The High Calling
(no cost, no spam, no hassle). Then you can opt to have my Daily Reflection sent to you as an e-mail.
So, please visit
The High Calling
and check out the Daily Reflection. While you're there, I'd urge you to look at some of what
The High Calling
has to offer besides the Reflection. There is a lot of great material on this website.
Happy New Year!