Excerpt
Then one of them, when he saw that he was healed, turned back, praising God with a loud voice. He prostrated himself at Jesusâ?? feet and thanked him. And he was a Samaritan. Then Jesus asked, â??Were not ten made clean? But the other nine, where are they? Was none of them found to return and give praise to God except this foreigner?â?
Luke 17:15-16
Click here to read all of Luke 17:11-19
Prayer
How well I know this story, Lord. I must have heard it a couple dozen times while in Sunday School. Since then I've studied it, taught on it, and preached on it.
And yet, in spite of how familiar I am with this story, I end up just like the nine who did not return to thank You. I find it so easy to receive Your gifts and move on without stopping to reflect or express my gratitude. Oh, to be sure, there are times when I thank You. But my thanks is so often shallow and scanty. Forgive me, Lord, for my failure to give You the credit You deserve.
Forgive me . . . and help me. Help me, Lord, to see with clear eyes Your manifold gifts to me. Slow me down enough so I can be thoughtful, and thus thankful. Help me not to charge on to the next thing, even the next good thing, so that I fail to appreciate and acknowledge Your goodness to me.
Gracious Lord, today I thank You for the big things, for Your love, for saving me, for giving me a reason to live. Thank You for my family, my friends, my work, my health. Thank You for blessing me in countless ways.
But may I also thank You for the little things, for the warmth of hugging my daughter, for the smell of the autumn air, for the refreshment of rest.
Fill my heart with gratitude, Lord. You deserve it. And, to be honest, I need it too.
Questions for Reflection
In what ways are you like the one man who returned to Jesus? And how are you like the other nine?
What helps you to be grateful? What might you do to enhance the gratitude of your life?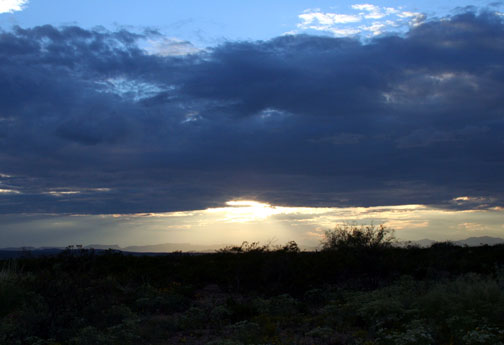 I'm grateful for the amazing skies in Texas.
Pray the Gospels
Pray the Gospels is one of my two devotional websites. The other is Pray the Psalms. Both sites include a daily Bible reading from either the Gospels or the Psalms, along with a prayer and some additional thoughts or questions for reflection.