My Recent Blogging
Sunday, May 27: Inspiration from Pray the Gospels
Monday, May 28: Memorial Day Gratitude
Tuesday, May 29: Sent by Jesus to Continue His Mission
Wednesday, May 30: Sent in the Power of the Spirit

Thursday, May 31:
Amazed . . . and Wondering
Friday, June 1:
Sent to Proclaim the Good News, Part 1
Links to Other Sites
The Pope's Jesus
. Check out Scot McKnight's series of review posts on the Pope's new book on Jesus.
Ben Witherington on Billy Graham
. A moving post by one of my favorite scholars about one of my favorite people.
The Word in Community
. Tod Bolsinger has a reflective piece on reading the Scripture – all of it! – with his church.
YouTube Success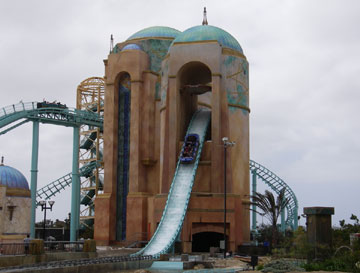 In April my daughter and I went to Sea World in San Diego. Apart from the animal features, Sea World offers several fun rides, the most of exciting of which is Journey to Atlantis.
While on the ride, I took a few pictures and some video, which I turned into a short clip and then
posted it on YouTube
. It has become by far the most popular of my
several YouTube videos
, with almost 5,000 viewings. Watch out, Steven Spielberg, here I come. (I'll bet he's worried, too.)