My Recent Blogging
Sunday, May 13: Inspiration from Pray the Gospels
Monday, May 14: Hope in the Midst of Struggle and Suffering
Tuesday, May 15: How to Begin Life as a Saint
Wednesday, May 16: Getting Older . . .

Thursday, May 17:
Getting Older . . . Even at 38
Friday, May 18:
Getting Older . . . What Goes Around Comes Around
Links to Other Sites
Good Grief! How Should Christians Grieve?
Some sage biblical and pastoral counsel from Ben Witherington, a top New Testament scholar.
Preaching at Virginia Tech.
Dr. Richard Mouw, President of Fuller Theological Seminary, reviews a fascinating series of responses to the Virginia Tech tragedy. Telling, indeed.
Dining with Shamu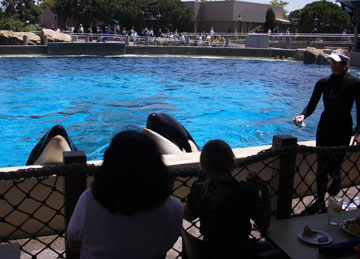 Last month my daughter and I visited Sea World in San Diego, California. (If you want to see a short video clip I made of one of the rides at Sea World, check out this
YouTube link
.) On the recommendation of my sisters, Kara and I enjoyed "Dining with Shamu." We had lunch only a few feet away from several killer whales. The lunch was a surprisingly tasty buffet. And the best part, in addition to being so close to the whales, was getting to hear the inside scoop from the trainers, who were also willing to answer any questions we might have.
If you're ever planning a trip to Sea World, I'd encourage you to save your dollars for a
"Dining with Shamu" experience
.  It's not cheap. The cost per person was around $35. But the quality of the food and service, combined with the chance to see the whales from only a few feet away, made the cost worthwhile. Most importantly, my daughter loved it!