My Recent Blogging
Sunday, April 29: Sunday Inspiration from Pray the Psalms
Monday, April 30: Our Loss . . . Heaven's Gain
Tuesday, May 1: In the World, But Not Of the World
Wednesday, May 2: What Sainthood is Not

Thursday, May 3:
The Cost of Being a Misfit
Friday, May 4:
A Saintly Struggle
Links to Other Sites
Gladiator's Graveyard Discovered
: Archeologists have identified a graveyard for Roman gladiators. This is the first such graveyard to be discovered, and reveals much about the lives and deaths of the gladiators. It was found in Ephesus, in modern-day Turkey, which I will be visiting in a couple of months. I will not, however, be wearing my gladiator costume. But I will be on the lookout for Russell Crowe. (HT: The always helpful
Smart Christian
.)
The Internet Radio Network
: Can't get to an AM radio for your daily dose of Hugh Hewitt, Tammy Bruce, or Dennis Prager, then listen online.
"Vacationing Pastor Lets PowerPoint Lead Service"
: Too much Christian seriousness got you down? Then visit Lark News. Where else can you find such stories as: "Nursery Catacombs Idea Flops"?
Proud Papa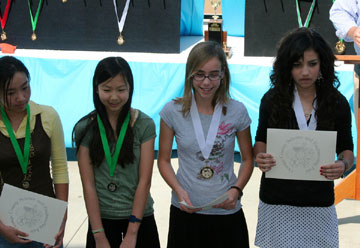 Okay, you'll have to permit me a moment of unapologetic boasting. Last week my daughter won third place in the Orange County Science Fair, Behavioral Science Junior Division. This means she gets to go to the California State Fair later this month. Her project looked at whether people learn better by reading with their eyes or hearing with their ears or both.
Guess which student is my daughter. Not hard, is it? If you're inclined to think of Orange County as a lily-white enclave, this photo tells another story. My daughter's class at school, in fact her whole school, reflects a similar mix of people.