Part 1 of series: The Mission of God and the Missional Church
Permalink for this post / Permalink for this series
In my early teenage years, nothing captured my imagination like the television classic, Mission: Impossible. Intricate plots, dire situations, ingenious devices, split-second timing – all of these combined to keep me on the edge of my seat for 60 anxious minutes. If you're too young to remember the original television series, the recent Mission: Impossible films help to remedy your deprivation. But there are only three movies; there were 168 original episodes on TV.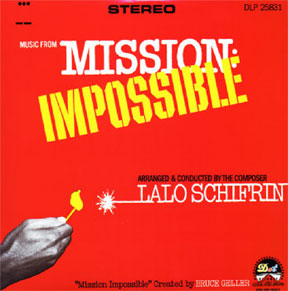 As the show began, Jim Phelps would play a tape that outlined some enemy plot crying out immediate attention. Only Mr. Phelps and his organization, the Impossible Mission Force (IMF), could remedy the desperate situation. Their assignment was perilous in the extreme. Failure would be disastrous, both for the world and for the IMF. If a member of the IMF were to be caught or killed, "the Secretary will disavow any knowledge of your actions." The taped voice gave Mr. Phelps the opportunity to accept or to reject the impossible assignment. Then it concluded with those famous words: "This tape will self-destruct in five seconds." Its smoky demise led straightaway into the show's memorable theme music. (To hear the famous song and see the opening for Season 3,
click here
. The picture to the right is the album of the Mission Impossible music.)
For the sake of high TV ratings, Mr. Phelps always accepted the assignment, gathered his team of experts, and with unequaled skill managed to defeat the forces of evil, usually situated in some rogue nation. The impossible mission turned out to be possible for the IMF, but just by the skin of their teeth. Chalk up another one for human ingenuity and technological sophistication!
As human beings we also face an impossible mission, but one that is truly beyond our potential. The problem: human sin and its results. The mission: to undo the dire effects of sin, to bring reconciliation between us and God, and to extend that reconciliation to all creation. In the quotable phrase of N.T. Wright, it's the mission of "putting the world back to rights." This mission's degree of difficulty? Utterly impossible. No amount of human cleverness, no collection of spiritual gizmos and disguises, will mend the breach between us and God, and heal all that is wrong with the world.
For limited and sinful creatures like us, overcoming sin and its results is indeed an impossible mission. "But with God everything is possible" (Matt 19:26). God alone can fix what we have broken. God alone can restore what is beyond our power. God alone can reconcile us to himself, and, as a result, bring reconciliation to a shattered world.
But, amazingly, God has chosen to use us for His mission. He has chosen us as members of His Impossible Mission Force. More accurately, we are part of God's
Possible
Mission Force. As believers in Jesus Christ, we have been drafted into the unique mission of God. To be sure, we cannot make reconciliation with God occur. That's God's job and he has accomplished it marvelously. Yet He has chosen us to be his agents of reconciliation who share in his mission of healing all creation (2 Cor 5:18-21). Because we experience intimate fellowship with God through Christ, we are also partners with him in his mission in the world.
What is God's mission? How does God accomplish that which is impossible for us? What should we do as members of God's mission force? How do we execute our assignment in the world? These questions are answered throughout the Scripture, which, thank God, does not self-destruct five seconds after we hear it!
Before I lay out our mission as God's people, I want to place that mission in a broad biblical context. We will best understand our task when we see it as an extension of God's mission in the Old Testament, that which is culminated in Jesus Christ.
(Note: this series, like my last one on
Sainthood, Service, and Suffering
, is based on part of my out-of-print book,
After "I Believe."
What you'll be reading is a greatly expanded and edited version of one chapter in that book.)