My Blogging
Sunday: Sunday Inspiration from Pray the Gospels, Matthew 4:1-11
Monday: Handel's Messiah: A Closer Look (cont)
Tuesday: Sainthood, Service, and Suffering: An Introduction
Wednesday: Why You're Like Saint Truman Burbank

Thursday:
A Member of God's Holy People
Friday:
Called to Holiness
Links
The High Calling of Our Daily Work
: This website is full of wisdom for Christians who are seeking to live out their faith in their work environment. It features personal stories, Bible studies, interviews with fascinating people, short pieces by business leaders, and lots more. For example, check out this
interview with Mark DeMoss
.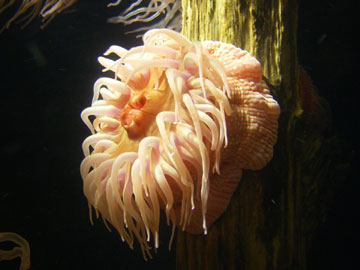 Mere Mission
. Here's a great interview of N.T. Wright by Tim Stafford, from the Christianity Today website.
Photo
No, I haven't been doing any snorkeling or scuba diving recently. But, yes, I did take this picture of a White Spotted Rose Anemone. It was in one of the many aquariums of Sea World, in San Diego, California. What a stunning bit of God's creation!