My Blogging
Sunday, April 15: Sunday Inspiration from Pray the Gospels
Monday, April 16: An Unexpected Easter Masterpiece
Tuesday, April 17: Handel's Messiah: A Closer Look

Tuesday, April 17:
How Do We Respond to the Tragedy at Virginia Tech?
Tuesday, April 17:
Resources for Thinking About Suffering and Evil
Wednesday, April 18:
Caring for People Who are Grieving
Thursday, April 19:
What Can We Learn from the Virginia Tech Tragedy?
Friday, April 20:
An Image to Remember from the Virginia Tech Tragedy?
Links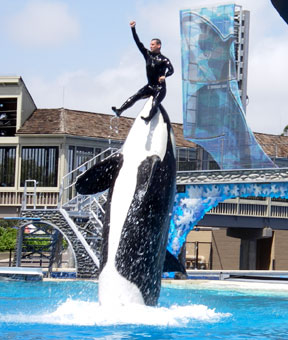 Ten Great Christian Biographies
: Albert Mohler, Jr., has some valuable suggestions.
On Faith
: This
Newsweek/Washington Post
blog has collected some of the top religious (and irrelgious) leaders from throughout the world, who weigh in on various questions. The most recent question: Do you think Islam is a violent religion?
Photo
During a recent spring break trip to San Diego, my daughter and I visited Sea World. There, we made sure to check out the main event, the "Imagine" show staring Shamu, the killer whale. Besides getting drenched when Shamu and his/her colleagues splashed the crowd, we saw a fascinating display of animal and human talent. The picture to the right was in no way doctored. Now that's what I call a thrill ride!