Today I'm launching my redesigned website. My hope is to make this site even friendlier and more functional for my readers (and bit friendlier for me too).
Improvements: I've integrated WordPress software into my main site, which allows for the following improvements:
• a clickable list of recent posts in the right sidebar
• a list of past posts archived by date in the right sidebar
• a list of topics (which allows for another way to access the content of this site. Now you can find things I've written before by: searching, scrolling through the list of past series in the left sidebar, or clicking on the topic of your interest)
• a more accessible means of adding or reading comments
• a neater central column, with the latest blog post right at the top for quick review.
If you're a regular reader of my blog, you'll note that the Table of Contents is now missing. It's been replaced by the list of recent posts in the right sidebar. One advantage of this for you is that the newest post will be right at the top of my homepage.
Archives and Series: My posts will now be saved in the archives powered by WordPress. You can find previous posts by using the links in the right sidebar as is common to most blogs. However, one of the distinctives of my website–the collection of blog posts into extended series–will remain. You can access past series by scanning the left sidebar or by searching the site.
Permalinks: All of my old Permalinks are unchanged. If you want to link to something new, please use the Permalink at the top of each post (for individual posts or for a whole series). This process is a little different from most blogs. It allows me to keep most of my previous posts in easily accessible series, which gets around the problem you'll find when trying to link to several related posts in other blogs.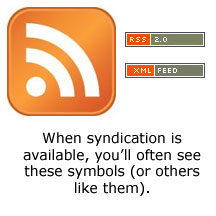 Syndication: Syndication will remain much as before. However, the syndication link is changed. You'll want to change your Feed Reeder to the new RSS/XML link (http://markdroberts.com/?feed=rss2). Note: If you're not familiar with syndication, it is an easy way to keep up-to-date with a large number of websites. More info here.

Problems:
As with any rollout of a new website, I'm quite sure there will be unforseen problems, bad links, etc. Please let me know about this by
sending me an e-mail
. I'll try to correct the problems, to the limit of my technical ability, which is quite limited, actually. Thanks for your patience.
I hope my new blog format will be an improvement for my readers. I think you'll especially appreciate easier and more varied access to past posts and the ability to add comments quickly and in a place where they are easily read by others. This should encourage more conversation and community. At least that is my plan.
Thanks to all of you who are faithful readers of my blog! I hope to continue to serve you well in the future.