La grandeur du crime est la seule différence qu'il y ait entre un conquérant et un brigand.
The magnitude of the crime is the only difference there is between a conqueror and a robber.
Jean-Paul Marat
---
Although time has not been abundant for me lately, I intend to put some effort into analyzing existing movements that see themselves as guiding and taking away some of the sting of our uncertain and likely 'post-state' future. Of primary interest to me in this arena are the Zero State (ZS) movement and the Zeitgeist Movement (TZM). I will produce an assessment of each of them in due course, to be published at the appropriate websites.
In the meantime, I am continuing to perfect the series of antistatist essays I have already mentioned I intend to publish at several different publication. One of the steps I have been meaning to take is to reprint work by Zero State's (ZS) M. Amon Twyman through my own webzine at ClubOfINFO Circulation. Thankfully, scheduling for this reprint has now been done: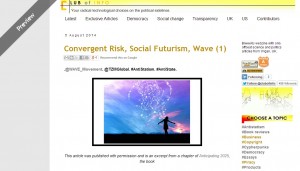 There have been significant disruptions to my own schedule recently, and my health has been poor lately. However, I believe in my writing and I intend to maintain it for as long as I am able to do so.
---