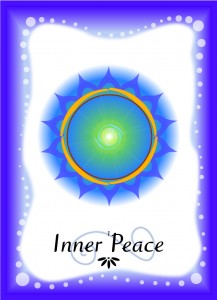 Friday Wisdom is shared from Christine Agro's Conscious Living Wisdom Cards (Special Moms' Edition) Each Deck has 42 cards and a booklet that offer insight and guidance for parenting consciously.
Inner Peace Card #1 in The Conscious Living Wisdom Cards (Special Moms' Edition)
If you live in the Northeast, chances are the last week has been anything but peaceful. Not only did we endure the uncertainty prior to Hurricane Sandy making landfall, but now we deal with the devastation, loss, uncertainty and even fear that sets in, in her aftermath.
It may seem too simple for many who are overwrought with this tragedy, but especially if you have children, both emulating strength, confidence and tapping into inner peace, will serve you all well.
We all have inner peace, but so often we overlook it because of all the noise that confronts us each day.
No matter what situation you find yourself, your inner peace lives inside of you, it cannot be taken away from you and is there waiting for you to tap into it.
Here is my Conscious Living Wisdom Card text for Inner Peace:
For You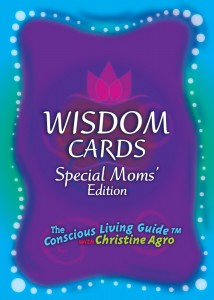 Inner Peace is a calm, centered and graceful state that occurs when we are connected within. It is when we take our attention and our focus outside of our own space that inner peace disappears. With so many things going on in our lives and in the world, it can be easy to get drawn out of our inner connection. But that helps no one. Change really does come from within, so keeping your attention within will not only help you tap into a state of inner peace, but it will also, believe it or not, help the world. The changes we see inside ourselves ripple out to help change the world. Place your attention in your heart space and imagine that you are breathing in and out through your heart. This small act alone will connect you and create inner peace. This card asks you to not only find inner peace, but also live in it.
For Your Child
Our children's lives can be filled with great disturbances that we as parents can overlook. Struggles with friends, new schedules and the stresses of our own family dynamics, whether spoken or unspoken, are just a few examples of turbulence that can rock our children's worlds. If you've drawn the Inner Peace card for your child, pay extra attention to the nature of the influences in his life. Talk about the things that are happening in his life. By encouraging discussion you will teach him to put words to his feelings and emotions and build a base of comfort and trust around sharing things with you. Help him find inner peace by focusing on his heart space and imagining that he is breathing in and out through his heart. Having him place his hand over his heart to feel the "up and down" created by his breath can further deepen his understanding of the idea of "breathing in and out through the heart." Also consider introducing him to meditation, yoga, or other activities that will help him bring his attention within and find inner peace.
Inner Peace Card #1 in The Conscious Living Wisdom Cards (Special Moms' Edition), Illustrated by Samantha Bachechi, Creative Medium LTD (C) 2010-2012 Conscious Living Unlimited LLC
**A note about The Conscious Living Guide Wisdom Cards (Special Moms' Edition): There are 42 cards in the deck and a guide book. The guide book includes insight for you which is meant to help you live life more consciously as well as insight for your child, which is meant to help support you in your Conscious Parenting.
*Additionally, to avoid the awkwardness of saying he/she all the time, I have picked one gender to identify in each card.
© 2012 Christine Agro
Come join me for free at The Conscious Mom's Guide for insight, guidance, support and a growing community interested in Conscious Parenting.
Have questions about your child or need support? Christine offers private readings as well as on-line support at The Consicous Mom's Guide
Christine Agro is a clairvoyant, naturopath, Master Herbalist, conscious mom and author of 50 Ways to Live Life Consciously as well as of The Conscious Living Wisdom Cards (Special Moms' Edition). Christine is founder of The Conscious Mom's Guide , a membership site where she helps support you on your own journey of living life consciously and on your journey of being a Conscious parent. You can also join Christine on Facebook. To contact Christine, invite her to speak or to schedule an appointment with her please email her.