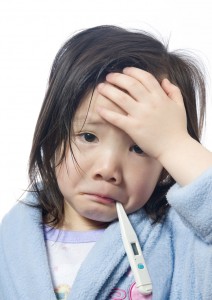 It's important for everyone to stay healthy as we head back-to-school so these tips aren't just for the kids. With a Naturopathic background, my philosophy is always prevention first. If we can avoid getting sick, that's the best way to go.
Here are a few tips to help keep you and your child healthy:
Wash Your Hands! At the top of the list, and I can't stress this enough is hand washing. According to a 1995 Center for Disease Control study approximately 164 million school days are missed due to illness. A study of 305 Detroit school children found that kids who washed their hands four times a day had 24% fewer sick days due to respiratory illness, and 51% fewer days lost because of stomach upset.
The CDC recommends that we should you wash our hands:
Before, during, and after preparing food
Before eating food
Before and after caring for someone who is sick
Before and after treating a cut or wound
After using the toilet
After changing diapers or cleaning up a child who has used the toilet
After blowing your nose, coughing, or sneezing
After touching an animal, animal feed, or animal waste
After touching garbage
And I'd like to add wash your hands every time you return to the home.
Get fresh air every day. High oxygen levels increase the function of our organs, including our brain, our heart, our lungs and our kidneys and it increases our natural immunity.
Get some sun. If possible get 20 minutes of non-sunscreen sun daily (early to mid-morning or late afternoon). The body creates its own vitamin D by synthesizing the Ultra Violet B rays. 20 minutes of sunlight exposure on just arms and legs daily will provide approximately 3000 units even during the winter months. Amazingly, twenty minutes of full body exposure will assist the body in creating 20,000 units of Vitamin D within 48 hours of exposure. (exact units depend on the intensity of the UVB in the sun, skin color, and location.) [1]
Drink Cinnamon Tea in the morning. (With some honey, your child may actually find this enjoyable.) Cinnamon contains antioxidants called polyphenols, and is known to help boost the immune system. It also has anti fungal and anti bacterial properties.
(caution: do not drink cinnamon tea if you are pregnant – it can act as an emmenagogue.)
Drink Turmeric Milk An ayurvedic remedy in use for more than 2500 years in India, I find turmeric milk to be both a great preventative as well as a first line of defense when we start to feel sick. Turmeric has many helpful properties as an herb, among them are anti-bacterial, anti-inflammatory, liver-detoxifier and antiseptic. Find my recipe for Turmeric Milk at The Conscious Mom's Guide. I make mine with almond milk instead of dairy. With honey, Caidin happily drinks it.
Epsom Salt Bath – I've written all about the benefits of Epsom Salt Baths (TUESDAYS NATURALLY- Epsom Salt Baths For Everything From The Emotional To The Physical), they are a staple in our house. Not only to they support the immune system but they also help balance the emotions. Use ¼ cup of Epsom salt in a hot bath before bed. Don't soak more the 15 or 20 minutes though, the detoxifying effects can become too much and cause dizziness.
I wish you all a healthy school year! Implementing even just a few of these tips will benefit you greatly.
If you have to pick just one, I'd pick hand-washing.
---
[1] 10 Ways To Naturally Avoid Colds and Flu (And What To Do When They Come Knocking), Christine Agro, 2nd Edition E-Book, Halidi Press, Pleasant Valley, NY, August 2012, pg 8.
© 2012 Christine Agro
Have friends who will benefit from this information? Use the handy share options provided at the top of the article . You'll find Facebook, Twitter, Google +1, Email or click the 'share' for many, many other options.
Remember, join me at The Conscious Mom's Guide for more insight, guidance and to connect with a growing group of conscious parents.
Have questions about your child or need support? Christine offers private readings as well as on-line support at The Consicous Mom's Guide
Christine Agro is a Clairvoyant, Naturopath, Master Herbalist, Conscious Mom and Author of 50 Ways to Live Life Consciously as well as of The Conscious Living Wisdom Cards (Special Moms' Edition). Christine is founder of The Conscious Mom's Guide , a membership site where she helps support you on your own journey of living life consciously and on your journey of being a Conscious parent. You can also join Christine on Facebook. To contact Christine, invite her to speak or to schedule an appointment with her please email her.