Today is Day 9 of my 31 Days of Self-Love posts to celebrate Self-Love Month with suggestions for jump-starting your own self-love and joining The Self-Love Movement™.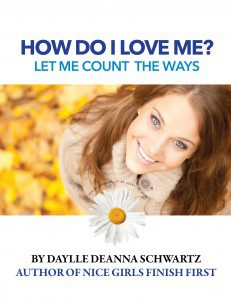 I thought it would be helpful to ask some experts how they show themselves love, to give you more ideas that you can use for yourself. I'm delighted to have some wonderful suggestions to share with you. By pampering your mind, body and spirit, you can build strong self-love, which is a magnet for loving things and people into your world. Here's what they had to say:
Self-love for me was BELIEVING in myself and accepting myself for who I am. I had to dig deep emotionally and mentally in order to allow myself to be 100% authentic as I continue to live my life.  I also do lots of positive self-talk to remind myself of what I believe in and how much I love and respect myself. Not that I am my biggest fan and I love myself unconditionally, I will never allow anyone to mistreat, disrespect, hurt, or interfere with my Greatness that life has to offer.     Nick Dillon, MS, MAED, motivational speaker, author The BELIEVE Coach
There are two things I do to show myself love 1. I have a passion for animals and at one time had 5 dogs, three cats (and three kids). Now I am down to one dog and two cats. Although they are a lot of work, the love they show me is well worth it and my dog travels with me coast to coast. 2. The second thing I do for me is work out every day and at 75 with 3 cases of breast cancer and 16 surgeries under my belt, I do 2 hours a day and it has enabled me to bounce back in record time and never feel sick. In fact, yesterday, I got my bone density results and they are better than they were 5 years ago. Yea!  So yes, that is something I do for me.
Dr. Gayle Carson CSP CMC author of several books including, Big Ideas for your Business, radio show host, and columnist
The thing I do to show myself love is a type of meditation I developed myself. Some types of meditation are about becoming empty of thoughts, which I find boring and a downer.  Instead, when I meditate, I fill myself with the feeling of love and warmth and kindness. I tell myself there is so much love in the universe for me, that the world is filled with love and kindness and help for anything I do. I actually try to imagine how much the universe loves me, and then I tell myself that universe loves me twice as much, then four times as much. I breathe deeply and relax my muscles, especially in my head and neck, and I try to feel cozy, safe, and filled with happiness.  Joel Garten, composer, artist, writer, entrepreneur
I've created a daily ritual that based on the idea of starting the day feeling centered, grateful and spiritually connected.  My ritual, that I do while sitting in bed, includes the following components:  lighting candles, meditating for 20 minutes, writing my 5 major goals, writing 1 thing I am grateful for (something different every day) and 1 thing I appreciate about myself (different than what I've written in the past few days). ??I wanted to be a dancer when I was a child. In recent years, I felt clumsy and critical of my body. I now go to a dance class where we learn a different dance routine every class.  Sometimes I forget which is my right foot and which is my left – and more and more I feel good about myself for just doing it! Susyn Reeve, best-selling author of The Inspired Life:  Unleashing Your Mind's Capacity for Joy
I'm a busy breast surgical oncologist in St. Louis. To expand my knowledge base, I'm studying Integrative Medicine through a fellowship program organized by Dr. Andrew Weil. I have grown to realize the importance of self-care, hence-self-love, through the fellowship. In particular, the heart center meditation (Dr. Ann Marie Chiasson), has been very helpful as a daily practice to combat the stresses of caring for and serving patients. The four meditation mantras are: oceanic, limitless compassion; innate harmony; healing presence; and unconditioned, unconditional love.? Diane Radford MD, FACS, FRCSEd
I love photography but used to only take pictures when I was travelling.  Earlier this year, I decided to start taking a photo a day. To keep it simple, I take and edit my photos on my phone and then post them on Instagram.  I also give myself permission to post photos that are a little crazy, meaning things I've created by playing with light and apps.  It always makes me smile. Aili Kuutan, self-love strategist & change catalyst
I set my alarm early each morning and wake up before my husband and children. I have a morning routine that centers me and allows me to clean away any mental cobwebs of negative thinking (e.g., fear, lack of acceptance of aspects of myself or my life).  I read inspirational literature; stretch; pray; reflect on how I am doing and how I can improve; meditate for a few minutes then move forward with my day, centered and refreshed.  Michele W. Miller, attorney and author of a novel, The Thirteenth Step: Zombie Recovery.
Try some of these tips to say "I love Me!" The better you feel from showing yourself love, the stronger your self-love will become!
**************
Join The Self-Love Movement™! Take the 31 Days of Self-Love Commitment—"I commit to do my best to do something loving for myself, however big or small, for the next 31 days." and get my book, How Do I Love Me? Let Me Count the Ways for free at http://howdoiloveme.com. Read my 2013 31 Days of Self-Love Posts HERE. Join the Self-Love Movement™! on Facebook.