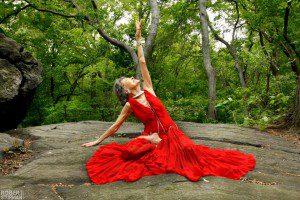 As someone who believes that good role models can help us to improve our lives, when I learned about Tao Porchon-Lynch ™, who is a Master Yoga teacher, I had to interview her. That in itself might not sound inspirational but at 94 years young Tao brings the most positive aspects of Indian, European and American thought together in her teachings.. She's uniquely equipped to spread Yogic insights, originating in India, to Westerners who seek enlightenment. Tao has trained and certified hundreds of yoga instructors, since founding the Westchester Institute of Yoga in 1982 and has over 70 years of yoga practice and more than 45 years of teaching yoga.
By studying with Indra Devi and Aurobindo and BKS Iyengar in Pune and Mumbai, Tao learned how to tap into the incredible power that all of us possess but only few can access. She has traveled to India with her students over twenty-five times because she believes that doing so offers enlightenment about the true spirit of Yoga. Tao continues to teach workshops at many yoga centers, including the Kripalu Center for Yoga and Health, Integral Yoga Institute in Manhattan and the Satchidananda Ashram-Yogaville, Buckingham, Va.
In 1995, Tao attended the Yoga for Peace International Peace Conference in Israel with Indra Devi to try to help bring peace to the Middle East through yogic principles. Tao believes that following the principles of yoga can heal individuals and by extension, help heal our planet. And at 94-years-young she's a true example of how Yoga principles can benefit people and how adopting a positive "can-do spirit" one can accomplish anything.
Tao has received lots of media attention, including an interview on The Today Show, where I first became aware of her. Before teaching yoga, Tao was an actress in England, France and the USA (under contract to MGM) in the 1940's and 50's, wrote screenplays and made documentaries in the 60's and 70's. Tao teaches discipline and control of the body and mind through Yoga. As she elevates and balances her body in classic poses, she demonstrates how to tap into the primal spark of energy that all of us receive from the universe. NO matter what your religious beliefs are, the spark makes you one with your fellow human beings and all forms of life on our planet.
Tao has been able to overcome the effects of aging to control her body and mind in harmony with Yoga's principles. Her philosophy is "There is nothing we cannot do if we harness the power within us." At a youthful 94, Tao brings a delightful, childlike love of life and nature to all that she does. She is an amazing role model for how to age gracefully. Here's what he had to say:
What drew you to doing yoga? Nothing really. I saw some young boys playing what I thought was a new game on the beach and joined in.
How would you explain yoga to someone who has never done it? When you explain it is how to wake up physically to the dawn. How the earth reacts and reveals the newness of life within all nature.
What do you consider some of its benefits? We react to the new energy in our bodies.
What does the term "aging gracefully" mean to you? Leave your yawns behind and feel the tiny new breeze of life lighting up inside of you.
How has yoga helped you to age so gracefully? I watch the beauty of nature. It is telling me that even the trees get more beautiful as they age.
How old do you feel today? I don't waste time thinking of anything that can slow me down.
What would you tell someone who dreads getting older? Pack into your mind and body the sound of the music of your heart. Don't let it prevent you from wasting times of experiencing the wonders of life.
Do you have a philosophy about life that keeps you going? Yes. Open the pages of each day knowing it is going to be a wonderful day.
What are some important lessons you learned that keep you happy? Don't dwell on the past.
How would you describe your viewpoint for living fully? Live for today. Don't look for obstacles. Do yoga. It joins the body, mind and spirit and opens the door to living. Look to the sun and thank it. Here's a clip of Tao on Good Day NY :
***************
Join the Self-Love Movement™! Take the 31 Days of Self-Love Commitment and get my book, How Do I Love Me? Let Me Count the Ways for free at http://howdoiloveme.com. Read my 2013 31 Days of Self-Love Posts HERE. Join the Self-Love Movement™! on Facebook.
Please leave comments under my posts so we can stay connected.