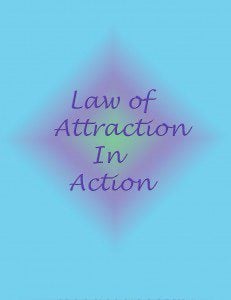 This is post 233 in my series on the Law of Attraction in Action. You CAN use your power to manifest your desires.. I do it every day! Read all the posts in my Law of Attraction in Action Series to see how.
I bought a pair of earrings that I loved before I went on vacation. I was staying in an apartment that someone let me use. One morning I headed out to do some shopping when I noticed that one earring was gone. They were silver hoops and I figured it would be easy to spot. It had to be either in the car, the apartment or somewhere outside on the short path to my car. I searched my car, the apartment and retraced my steps. No earring. I as upset as they were a splurge and I didn't want to lose one. I mean I REALLY didn't want to part with it.
I became determined to find the earring. I affirmed over and over, "I will find it." And "My earring will turn up. I kept searching and affirming but nothing. That night I affirmed it before going to sleep and in the morning I became more determined to find my earring. I spoke to a friend who warned that it was probably lost for good since it wasn't in the apartment or car and a day had passed. But I insisted that I'd find it somewhere. I felt it with all my heart. And it went into my vibration.
Later that day I went out. When I returned and got out of my car, I noticed something shining on the ground. It was my earring! I'd walked by that spot several time since I'd lost it, looking carefully and it wasn't there. But the Law of Attraction heard me and there was my earring. I was shocked and wondered how it got there—to a spot I'd checked before but one that made it hard for me to miss seeing it. My determination set up a vibration that brought the earring back to me! And it was in perfect shape!
It doesn't matter how impossible it may seem to get or do something. The Universe doesn't make judgments. YOU do. If you decide something won't happen, it probably won't. But if you conjure up your determination to get what you want, you'll have a great chance of manifesting it. Miracles happen every day. I get many. So can you! Next time it looks like something isn't working out, cultivate a mindset of determination. If it's strong enough, you may get your miracle!
See all the posts in my Law of Attraction in Action Series HERE.
***************
Join the Self-Love Movement™! Take the 31 Days of Self-Love Commitment and get my book, How Do I Love Me? Let Me Count the Ways for free at http://howdoiloveme.com. Read my 2013 31 Days of Self-Love Posts HERE. Join the Self-Love Movement™! on Facebook.
Please leave comments under my posts so we can stay connected.