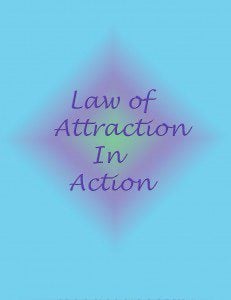 This is post 217 in my series on the Law of Attraction in Action. You CAN use your power to manifest your desires.. I do it every day! Read all the posts in my Law of Attraction in Action Series to see how.
As New Years Eve approaches, are you expecting some miracle to happen as you change your calendar to 2013?
•    Will you magically lose those pounds that wouldn't come off in 2012?
•    Will the man or woman of your dreams suddenly appear?
•    Will your dream job be offered to you out of the blue?
•    Will you finally figure out how to make yourself happy?
Unfortunately, miracles don't spontaneously happen, even if it looks like some people get them. No new year, no wish list, no New Years resolutions will bring you the miracles you want. You have to use your own power to get them. And you have that power. It all in your thoughts, which you control!
You can take control of what happens to you as 2013 begins. You have everything you need in your head. Instead of looking to the New Year for your wishes to magically happen, focus on making your thoughts as positive as possible. Often when you think about what you want, you focus on what you have, or don't have now in a negative way. So change that dynamic to more loving, positive thoughts so you manifest more! For example:
•    "I hate feeling fat and want to lose at least ten pounds" can be "I'd like to weigh less but I still love myself and will do what I can to be loving to my body with healthy food and exercise."
•    "I'll never be happy until I meet a romantic partner" can be "I'll work on loving me and making myself happy so I'll be in a better place to attract healthy love."
•    "I'm miserable at my job and need to find one that stimulates me" can be "I'll make the best of my job while I start telling people what I'm looking for and stay positive about finding a new one."
•    "I want to stop being unhappy!" can be "I will dedicate more time to loving me so I can attract the happiness I deserve."
Do you see the difference? The magic of New Years Eve has to come from YOU! A calendar change won't do it but you have the magic in you. It begins with changing your thoughts! So if you need to make a resolution, make it:
"I will make an effort to keep my thoughts positive and to find as much joy in my life as possible."
The more you feel love and happiness and the more you think positively about your current situation, instead of bemoaning it, the higher your vibration gets for the Law of Attraction to support your desire instead of sabotaging it. Start the New Year with a smile. Sign my pledge to commit to beginning 2013 by giving yourself love for the first 31 days. The hopefully you'll like it so much you'll want to continue. The more self-love you have, the more likely you are to treat yourself in ways that can get you the desires you want, that resolutions don't get you.
I have rituals I do on the last night of every year. I write down any anger at people I know and frustration about what's going on in my life. I read it aloud and then affirm:
"TOMORROW IS THE FIRST DAY OF THE REST OF MY LIFE AND I CHOOSE TO HAVE THE NEW YEAR BEGIN POSITIVELY FOR ME!"
Then I burn the papers and watch my negatives go up in smoke. Make the New Years Eve a time for telling the Law of Attraction you choose to have a positive year and affirm it by showing yourself love. Self-love motivates you to eat healthier and exercise—hence you get into better shape. And the more you take care of yourself and your needs out of love, the more you manifest your desires.
See all the posts in my Law of Attraction in Action Series HERE.
***************
Join The Self-Love Movement! Take the 31 Days of Self-Love Commitment and get my book, How Do I Love Me? Let Me Count the Ways for free at http://howdoiloveme.com. Read my 31 Days of Self-Love Posts HERE.
Please leave comments under my posts so we can stay connected.