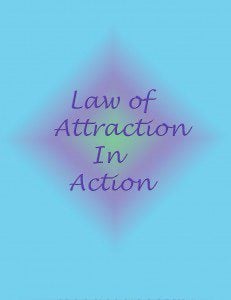 This is post 196 in my series on the Law of Attraction in Action. You CAN use your power to manifest your desires.. I do it every day! Read all the posts in my Law of Attraction in Action Series to see how.
In the last post in my Law of Attraction in Action Series, I spoke about Changing Your Vibration by focusing on thoughts or doing things that make you smile. Another way to stop any negative vibrations is to get your mind into a neutral place. If you're angry or frustrated or worrying, your thoughts tend to go to the reasons for those emotions, which keeps you in a negative place and attracts more negative situations. Completely clearing your mind can take the negative out of your vibration.
Doing meditation can help you achieve that. I admit that I'm not good at meditating. Many people find it tough to sit still and not think about anything. But when you do, it's a remarkable place to be in. While joy fuels the Law of Attraction, sometimes you might not have any joy at the moment. If you're feeling negative, getting to a neutral place may be the first thing you need.
Thoughts that create negative emotions hurt you in many ways. Anger, hurt, sadness, disappointment, etc. can greatly increase stress and make you feel physically ill. And, they send out a negative vibration which attracts negative situations. If you can't look far enough ahead to create a more joyous vibration, meditation can at least get you to a place where the negativity isn't ruling you. Your mind gets cleared so it's easier to start with m=better thoughts once you're done.
I've had several articles here with suggestions for doing meditation, including Insight Into Mindful Meditatio and Using Meditation to Fall in Love with You. On Friday I'll share how I was able to shut off my mind for a while and breathe into relaxation. If you want to get a good starting point for attracting more positive things into your life, do some mediation. Stay tuned for the tips I learned that will be up on Friday.
See all the posts in my Law of Attraction in Action Series HERE.
***************
Take the 31 Days of Self-Love Challenge–a pledge to do something loving for yourself for the next 31 days–and get my book, How Do I Love Me? Let Me Count the Ways for free at http://howdoiloveme.com. Read my 31 Days of Self-Love Posts from 2012 HERE.
Please leave comments under my posts so we can stay connected.