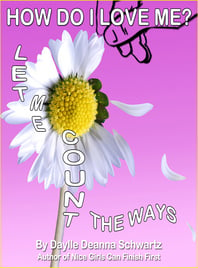 Today is the International Day of Self-Love! While I recommend showing yourself love on every day of the year, today is a day to highlight that even more. Pay attention to YOU. How can you make yourself happy??
Today I shall treat myself with extra special care. Why not? I deserve as much love as I can give me. I'll chill in bed, reading and relaxing. Then I plan to take myself out to brunch with my laptop so I can do some writing, which I love. And whatever I want to do after, I will do it. And, I've been craving a piece of frosted cake from the Buttercup Bakery. I'll buy it today and have half, and save the other half for tomorrow as I continue to love me.
January was a whole month focusing on Self-love. Today is one day to hone in on you and what would make you happy.
Do at least something special for you. Raise your consciousness about the importance to love yourself. Self-love is the most beautiful, pure and joyous kind of love you can have. As Valentine's Day approaches, take today to strengthen the best kind of love you can have. Tomorrow people will buy stuff and have high expectations about feeling loved by someone else. When YOU love YOU, you can celebrate YOU tomorrow too.
Christine Arylo's site, Madly in Love with Me has resources for celebrating you today and every day. Check it out and spread the word. She shared, Are You Receiving the Self-Love You DESERVE? last week. DESERVE is the operative word. YOU DESERVE all the love you can give YOU. enjoy today! : )
Please share what you do today below.
Take the 31 Days of Self-Love challenge and get my book, How Do I Love Me? Let Me Count the Ways for free at http://howdoiloveme.com. And you can post your loving acts HERE to reinforce your intention to love yourself. Read my 31 Days of Self-Love Posts HERE