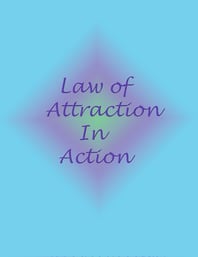 This is post 106 in my series on the Law of Attraction in Action. You CAN use your power to attract all that you need. I do it every day! Read all the posts in my Law of Attraction in Action Series to see how.
Writing down your intentions makes them more concrete. Doing writing exercises helps you think more clearly about what you want and can help keep you focused. Therefore, as part of this series, I will occasionally have a writing exercise that you can use to help the Law of Attraction work with you to manifest the goodies you want.
I'll start off with something you can do every day–a desire list.
On the top of a paper, write "I Intend to Have" and under it list everything you'd like to receive. Your list can be as long as you like. Don't be stingy with your desires! They can be short term ones, like having perfect weather for your barbecue this weekend, and longer ones, like finding the right romantic partner. There is no limit on what you can manifest. I live in OINK mode now–the sky is the limit for what I want and expect to get in every area of my life. The more you love yourself, the longer your list will be.
The more you attract to you, the stronger your self- love will be.
EVERY night before you go to sleep, read your list out loud, with as much excited feelings that you can muster. Say thank you for receiving them at the perfect time. When one comes to pass, put a check in front of it. Add more as you think of them. Nothing is too small or too big. If you want it, write it down! Continue to read it aloud every night and give thanks for each coming when the time is right.
Patience is crucial in manifesting! This is no magic quick fix for getting what you want.
The time may not be right for a while. You might not be ready for what you desire. The important part is keeping the faith by reading, "I Intend to Have" [each thing on your list] every night. If you have time, read it in the morning too. Remember to feel the words so you send a vibration that shows you're excited to receive and expect to.
As your list gets longer and you check things off, make a new one to keep it up-to-date. You can create a new one once a week, month or whenever it suits you. Take pleasure in checking one off, no matter how small it is. Writing your desires down and putting attention on them every day keeps reminding the Universe that you're expecting them. The Law of Attraction responds to your expectations. So begin your list tonight!
See all the posts in my Law of Attraction in Action Series here.
Please leave comments under my posts so we can stay connected.