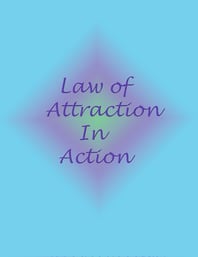 This is post 91 in my series on the Law of Attraction in Action. You CAN use your power to attract all that you need. I do it every day! Read the posts in this series to see how.
I learned about the power of cause and effect when I manifested an appearance on Howard Stern radio. I knew it was the perfect vehicle for my books at the time. So I declared, over and over that I'd be on within 3 weeks. Two weeks later I was booked! The publicist was stunned that I'd declared it and it happened. Right after, an avalanche of negatives were hurled at me. Howard could be mean. If he hated me or my books it could hurt more than help. I was warned to listen to the show every day till my appearance to prepare myself for the kind of things he might say to me.
Someone listening on the fringe might have thought I was going to war instead of going on the Howard Stern Show.
Each time someone began a warning I asked them to stop. "But I'm just trying to help you Daylle! You need to be prepared." They were nervous for me, like Howard might gobble me up and spit me out. It was interesting how people were both excited that I'd get to be on Howard's show and alarmed for my safety. I'd thank them all for their concerns but reassured them all I was safe.
It didn't matter how Howard treated others. I EXPECTED the show to go well for me. Period.
I was accused of being stubborn for not listening to even a minute of the show beforehand. Why should I look for things to be scared of? Preparing for him to be mean to me meant it was my expectation that he would be. Listening to him tear apart other authors might scare me, so why invite that vibration in? I already knew what Howard is like but believed I'd be fine.
Other people can tell you why you should be worried about a situation but it only affects you if you believe it. Negating it tells the Universe you trust in a good outcome. And it comes!
The night before my appearance it hit me–I was going on the Howard Stern Show in the morning!!! Millions of people would hear me. Fear took over. What ifs? began to fill my head and I didn't think I'd get a wink of sleep. So I did what I do when my faith gets shaky–I asked God for help getting through my fear. Right after I picked up a spiritual book I like to read and opened to the next page I was up to. God spoke to me that night!!
The section was about cause and effect. It said that when God supports you in getting something you want, He is also there for the outcome.
I truly believe that God supported my belief about getting booked on Howard's show. So therefore, He would be with me during my appearance. Reading that was better than taking a sleeping pill! I fell asleep soon after and woke refreshed and calm in the belief that God would support the outcome of what I manifested.
The show went better than anyone could have imagined. Howard kept me on for 35 commercial free minutes and kept saying that I made a lot of sense and people should buy my books. Yes, he asked me some questions that weren't surprising since it was Howard Stern after all but I rolled with them like a good sport should. Afterward, people asked if I'd hypnotized him as they'd never heard him be so nice to anyone! No, I didn't do anything but have faith that God would be with me in support.
And I refused to absorb any negativity from listening in advance. It doesn't matter how many others have a negative outcome in a situation. You can choose to have it be positive for you by setting clear expectations that you'll get the results you want.
When you manifest an opportunity with positive expectations, you can also manifest support for seeing it through to a positive outcome.
Cause & Effect. Your thoughts cause something to happen. And the same support is there for its effect on you–if you believe and send that vibration! You have the power in you. We all do. So if you get the interview for the job you want badly, or a date with someone you're crazy about or a chance to head a project that could escalate your career, or anything else you desired and received, KNOW that it will go well. You have the same support that helped you create the opportunity available, IF you don't negate it with fear.
When you get spiritual support in creating an opportunity, that support is also there to take you through it to a happy outcome.
See all the posts in my Law of Attraction in Action Series here.
Please leave comments under my posts so we can stay connected.