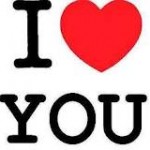 Those of you who are parents have probably said something like the following to your children: "There is nothing you can do to make me stop loving you." If we haven't spoken those words to a child, many of us have heard them from our own mom or dad.
Such a statement is a beautiful thing to say, and usually it is a true. But know that it is a declaration that can really be put to the test – and then some.
When that child is four-years-old and such a brat you are already completing boarding school applications, you still love him. When he is sixteen and is a know-it-all little punk, or calls you from the holding cell of local lock up, you grow angry, but not apathetic. You love.
When she is nineteen and comes home drunk, or high, or comes home from college pregnant, your heart gets put in an emotional blender, but your love doesn't change.
When he's twenty-four and chooses a family barbecue as the time to tell you that he is gay or that she has had an abortion, your mind reels, and the burgers get cold with your loss of appetite, but still you love that child.
When he is thirty and decides marriage is not for him and leaves his wife and breaks the hearts of your grandchildren, you feel like you could kill him with your bare hands, but you don't. Why – because no matter what, you are going to love that child.
The parent-child relationship is chock-full of fighting, celebration, mourning, harsh words, misunderstandings, fits of rage, joy beyond measure, and glory unspeakable – all the things that make relationships what they are. But through it all there is the constant love of the parent.
See, you will take more crap off your kids, than you would ever take off anyone else, because you love them like you love no one else. And your kids will dish out more crap at you than anyone else – because they know your love can take it.
When Christians speak of God as our Father, some of us are not attempting to reinforce a paternal, male-driven society, or trying to prove God's gender, as if God could be defined sexually. We are speaking of God as our Parent and the unconditional parental love he has for his children. It would do us all well – it would do our souls well – to view God's love for us in this light.
A mother was having more than the usual trouble with her teenage son. They wanted to work through it all, so the son had a brilliant idea. For one month the two would have a "Fault Box."
If the mother somehow offended or hurt the son, rather than fight about it then and there, he would jot it down on a piece of paper and put it in his box. His mother would do the same with a box of her own. At the end of a month, they would exchange boxes in an effort at constructive criticism.
The boy kept a good list. Every time his mother was too demanding, he would put a slip of paper in the box with words to that effect. When she complained about him breaking curfew, or jumped to conclusions, or refused to listen to him, he jotted it down.
Of course, he was leaving a mess every where he went, burning through his allowance in a day and a half, living as if his mother was his personal maid and chef. She filled his box as well with what appeared to be a full ream of paper.
At the end of the month the two sat down to dinner and exchanged Fault Boxes. The mother went first, and saw all that she had done wrong. They talked about it, and she promised to be more understanding of this clump of male hormones living in her house.
Then the son received his box. It was running over. But for every fault and misstep the son had made, his mother had written the same message. Every piece of paper read, "I love you."
Do you know what God would say to you if he spoke right now? He would say what he has already said through his Son in these last days: "I love you."