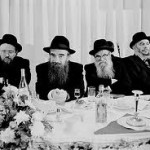 There were four rabbis who had a series of ongoing theological arguments, and three were always in alignment against the fourth. One day, the odd rabbi out, after the usual "Three to One" vote, decided to appeal to a higher authority. "Oh, God!" he cried, "I know in my heart that I am right and they are wrong. Please give me a sign to prove it to them." As soon as the rabbi finished his prayer, a storm cloud moved across the sky above the three opposing rabbis. It rumbled once and then disappeared.
"A sign from God!" the fourth rabbi cried. "See, I am right!" But the other three disagreed pointing out that storm clouds could form on any hot day. So the rabbi prayed again: "Oh, God, I need a bigger sign to show that I am right and they are wrong. God, send a bigger sign!" This time a much larger storm cloud appeared and a bolt of lightning slammed into a tree right beside the three opposing rabbis. "I told you I was right!" cried the fourth rabbi again. "God has vindicated me." But his friends insisted that nothing had happened that could not be explained by natural causes.
The rabbi, then and there, turned to God once again, this time to ask for a very, very, big sign. But as he began to pray, "Oh God…" the sky turned pitch black; the earth shook, and a deep, booming voice called from heaven: "HE IS RIGHT!" The rabbi put his hands on his hips, turned to the other three, and said, "Well? I told you I was right!" The other three rabbis looked to one another and then responded in unison: "So what. It's still three over two."
Within Jewish faith there is this beautiful, argumentative contrariness. It is faith, for sure, but it is never settled. Spirituality is an on-going wrestling match with one another, and especially with God. There is a Yiddish word to describe it: Chutzpah. In a Yiddish proverb chutzpah is illustrated by a young woman who wakes in the middle of the night and goes to her parents' bedroom and murders them. She is quickly arrested and brought to trial. Before the judge she pleads for mercy, if not full pardon for her actions, based on the fact that she is an orphan.
For our spiritual forefathers, chutzpah was a required spiritual ingredient for living. Moses wins several arguments with God in his desert years. Job demanded that God show up and defend his actions. Abraham bargained with God to save innocent lives. Jesus fought his Father tooth and nail in the Garden of Gethsemane. Of course the most shameless and brazen arguer of all was Jacob. He wrestled with God face to face with audacious chutzpah running out of his ears. There was sweat and blood, flying punches, kicks to the head, drool, tears, and exhaustion; God and man locked in mortal combat. But Jacob would not quit until he prevailed.
More times than we care to admit, our relationship with God is not a Harlequin romance, wrapped in a tidy package with a bow on top. It is more like a game of tug-o-war. God speaks and pulls and we pull back. He yanks again and we curse and shout across the mud pit at him. He shouts back. It goes on like this for a long time – most of our lives even – and sometimes God wins and sometimes we do.
Why is it this way? Because God isn't after blind, robotic faith, we behaving as androids receiving signals from above transmitted to our spiritual antenna. No, God is after a relationship with us, for us to genuinely know him. And sometimes to know this God we must wrestle with him. When we give up on listening, struggling, wrestling, and protesting – when we lose our chutzpah – we have given up on faith, and the only thing left is atheism or cynicism; hardness toward God or disbelief in him. The struggle means the relationship is very much alive.