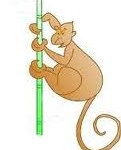 Gary Hamel tells about a science experiment involving four monkeys in a room. In the center of the room, researchers had placed a tall pole with a bunch of bananas suspended at the top. One particularly hungry monkey eagerly scampered up the pole intent on retrieving a banana.
Just as he reached out to take hold of the treat, he was hit in the face with a gush of cold water from an overhead shower. Squealing and crying, the monkey ran down the pole. Each monkey, in turn, attempted to get a banana.
Each received a cold shower, and each scampered down without a meal. After repeated treatment like this, the monkeys finally gave up on the bananas all together. With the monkeys thus conditioned, one of the original four was removed from the experiment and a new monkey was added.
The first thing the new monkey did was start up the pole to get a banana. The other three monkeys in the room quickly reached up and yanked their new comrade back down the pole. After a few of these aborted attempts, the new monkey got the message loud and clear: Don't climb the pole.
One by one each of the original monkeys was replaced. Each new monkey learned the same lesson. Don't climb the pole. None of the new monkeys ever made it to the top of the pole. None even got so far as a cold shower.
Not one understood precisely why pole climbing was discouraged, but they all respected the well-established precedent. Even after the shower was removed, no monkeys ever ventured up the pole again.
Many people, too many people, have given up on church, even God. They won't even attempt to "climb the pole" because they have been pulled down for so long by the others in the room, there's not even a reason to try.
And some of us in the room have been hardwired by our Puritanism, our fundamentalism, our Catholicism or a hundred other "isms" you can come up with, to think that certain people are welcome by God, and others are not. Some people God can use, but there are others who are simply disqualified.
Because of their gender, their race, their nationality, their religion, their socio-economic status, their denominational alliance, their place in society, their past failures; well, some of us in the room feel compelled to police the pole and keep these people away. They just are not welcome.  They don't belong. God's family isn't big enough for some people.
Somehow we feel that we have been granted the right to speak for God's family. We police the adoption records of God's family, ignoring the grace that says to all who believe, God has given them the power to be called the children of God. No one is unacceptable or too much of an outsider for our Father's love.
I cannot imagine Jesus preparing to preach to a group of people, to those the Bible always describes as being in the crowd – the losers, nobodies, oddballs, and outcasts – and him turning to his disciples with instructions to purge the crowd.
It's impossible to hear Jesus saying, "Look around boys. There's a few folks here I just can't afford to be seen with; those who have made some choices that I just can't approve of; it's bad for business and so I need you to discreetly get them out of here."
No, we can't imagine hearing such words. And we can't persist in practicing such behavior, subtly or overtly in our Christian congregations. Those we have kept at a distance, locked out and unwelcome, we must now find a way to welcome them, as Jesus did.
Jesus was proudly a friend to sinners, to all who genuinely sought God, though the religious establishment of his day did not approve. They looked over at Jesus with a sneer on their face and a bad taste in their mouth over his attitude and actions. He wore their disapproval like a badge of honor. We should do the same.