Let the world meditate for a moment on this picture: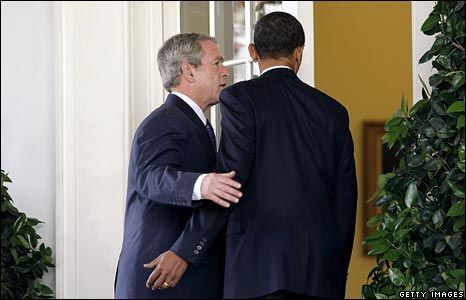 What an amazing country we are.
We aren't even up to the peaceful transfer of power moment. That is something extraordinary in its own right – something beyond extraordinary really.
This was just the, "Hey, you just kicked me up and down the football field but you won. Why don't you drop by for coffee moment."

I am struck again by President Bush's decency. He is handling this transition with a dignity and honor that must be recognized. How easy it would be for him to be small and bitter and petty. But by all accounts he is anything but. He is doing honor to the office.
But more than anything I am struck by the symbolism of it all. This newly elected president, this newly elected black president being shown his new office.
It is amazing stuff, wondrous stuff.