What does Jesus look like?
He looks like this: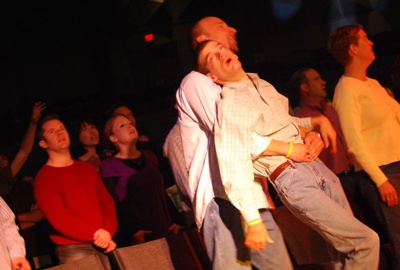 My only question is which one is he?
The reality is that Jesus is both.
Jesus is the poor and the broken and lonely and the lost.
Jesus is the lover and the defender and the one who lifts when we have nothing left.
Jesus is the lion and the lamb.
So here is the story of the picture.
My friend Carlos is a pastor at a snazzy church in Atlanta, in Buckhead. I've never been there but the brochure looks nice. It is high tech and cutting edge and all that stuff. The altar looks like a cool concert stage. Carlos fits. He's cool. He was on a TV show called LA Ink that chronicled the creation of the grand art he has inked into his arm – a massive tattoo showing Paul's meeting with the Lord. This background is necessary for this:
I'm in verse 2 and I look to my left and am hit like a blind side pick and roll.
Swaying on the front row was a guy I later learned was named Matt.
Standing in front of him was another guy named Jefferson.
It was a moment that stands out above all else in my 11 years of leading worship.
You see Matt and Jefferson were worshipping God, together.
Literally.
Jefferson has severe cerebral palsy. He has little, if any control over his body.
Matt was standing behind Jefferson.
Holding Jefferson.
20 minutes.
Dancing with Jefferson and singing at the top of his lungs.
Jefferson was singing too. I think could hear him.
And it was the most beautiful song I have ever heard.
Andrew Sullivan linked to it and wrote this: [It is] Easter in an image.
Amen.