How about this shot? A plane against a rainbow in France.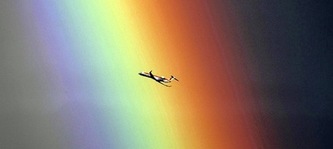 We've been in Seoul Korea this week but here are a few meanderings. (Speaking of which, Jesus Creed is coming out shortly in Korea. Please tell your Korean friends.)
Some asked about why I was leaving BNet, and I will say a little more in the next week or two, but
this series at Patheos
gives on angle on what Patheos has to offer. Look at the scope and the topics.
Meanderings in the News
3. The picture to the right is a web image of Gyeong Bok Gung, the historic palace in Seoul.