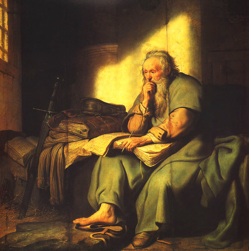 If you've ever taught Paul's letters you know the challenge: How does one put Paul together? Or the teacher asks, Where can I begin that makes the whole become clear? Where do I tap to make this diamond fall out?
Tim Gombis's new book,
Paul: A Guide for the Perplexed (Guides for the Perplexed)
, does this so well.
For instance, in a sketch of Paul's letters, Gombis asks this question: Is Paul a theologian, a missionary or a pastor? Which of these would be your first choice? And what order would you put them in? How do you explain Paul to those who don't know him?
Frankly, many of us resort to teaching Paul as if he were a theologian — which he's not since his letters are not "theology" but theologically informed and rooted pastoral guides — and that means we get to the core of his theology and then teach that. Thus, we focus on soteriology or ecclesiology or Christology, do a good job of sketching the depth of those themes, and then … well, then, we get to a letter like Philippians and it takes a good long while to get to where Paul's soteriology really starts digging deep.
In short, there's a way to approach Paul that conforms to how Paul does things.
So, Tim Gombis is saying "let Paul be Paul."

Chp 2 of this book sketches the substance of Paul's letters, and I want to say this chp is a fresh description. Take Romans. How does one say something about Romans in just a few pages without walking well-worn(out) paths.
Gombis knows the issue with the emperor Claudius' edict that banned Jews from Rome, and then a few years later they returned when he died — and then issues arose in the church of Rome that had for five years been led by Gentile Christians and then Paul wrote, and he sees that context as significant for a constantly-ignored dimension of Romans: the appeal to unity, to Jews and Christians getting along, etc. Yes, Paul does theology but what he's doing first and foremost is pastoral work. He's heralding the kingdom for the church at Rome. He's showing that the gospel brings Jews and Gentiles together.
It is about Christ and about faith for "all" who believe, Jew or Gentile. Well, you get a taste of what Gombis does in this chp: he shows each of Paul's letters is pastorally focused by an apostle of Jesus Christ who is heralding the kingdom of God.