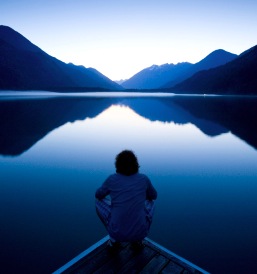 Imagine a world, Jesus once told his followers, where lost people get found. Jesus told three such parables, we call them the lost sheep, the lost coin and the lost son. I want to dabble with the first two today. (You can read the texts after the jump.)
We need to begin at the beginning:
Jesus is eating with the wrong people: tax collectors and sinners. They are as much a stereotype as the Pharisees and legal experts who are inspecting Jesus' evening behaviors at meals.
We've got the Good-but-Inspected-Guy doing the merciful and forgiving thing with the wrong people and the right people fundamentally upset about what's being done. Welcoming sinners to table — evidently before they had committed themselves to Torah observance — was the wrong thing to do.
In that context, Jesus says a new imagination is in order. And that imagined world begins with Jesus' behavior and is justified by his stories of a different world.
The kingdom world of Jesus is a world in which tax collectors are sinners are pursued by God — a shepherd seeking for a lost sheep, a woman scouring a home to find one lost coin — in spite of the risk and are pursued by God through great effort. In addition, when God finds such a lost person, God is overjoyed — here you can think of the amount of wine Jesus produced at the wedding at Cana — to the point that he throws a big party. When he finds the sheep he puts atop his shoulders and carries it home to safety and celebration; the woman cherishes the coin and calls her neighbors.
A theme sometimes neglected in this imagined world of Jesus: the sheep being found and the coin being found are connected to the sinners who repent. Those who show up to dinner with Jesus are accepting the invitation to turn from what they've done, who they are and enter knowing their encounter with Jesus means a new journey.
Imagine that world, Jesus is saying, and you will see why I welcome tax collectors and sinners to the table. The whole parable throws the normative and conventional values of the Pharisees and scribes into kilter. They can't imagine tax collectors and sinners being transformed. They can't imagine a prophet defiling the table like this. They can't imagine using a shepherd or a woman for such a profound covenant action — welcoming to the table. They can't imagine a shepherd abandoning 99 sheep to find one [but perhaps another shepherd caring for the 99 is just not mentioned]; they can't imagine a woman scouring a home for such small value. They can't imagine either a shepherd or a woman throwing parties for such things.
Jesus can. Welcome to the imagined world of Jesus.
What prevents us such invitations? and even from offending similar religious sensibilities?
15:1 Now all the tax collectors and sinners were coming to hear him. 15:2 But the Pharisees and the experts in the law were complaining, "This man welcomes sinners and eats with them."
15:3 So Jesus told them this parable: 15:4 "Which one of you, if he has a hundred sheep and loses one of them, would not leave the ninety-nine in the open pasture and go look for the one that is lost until he finds it? 15:5 Then when he has found it, he places it on his shoulders, rejoicing. 15:6 Returning home, he calls together his friends and neighbors, telling them, 'Rejoice with me, because I have found my sheep that was lost.' 15:7 I tell you, in the same way there will be more joy in heaven over one sinner who repents than over ninety-nine righteous people who have no need to repent.
15:8 "Or what woman, if she has ten silver coins and loses one of them, does not light a lamp, sweep the house, and search thoroughly until she finds it? 15:9 Then when she has found it, she calls together her friends and neighbors, saying, 'Rejoice with me, for I have found the coin that I had lost.' 15:10 In the same way, I tell you, there is joy in the presence of God's angels over one sinner who repents."