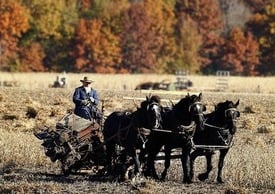 Kris and I were in Ephrata PA last Friday and Saturday at New Joy Church. It's in Lancaster County, which means the Amish. We loved the small farms and the rolling hills.
I was speaking to a regional meeting of the Brethren in Christ church leaders. We loved our time, and found (as we often do) some new friends. Nathan Yoder was our host, and he's a young mature leader — it was very encouraging to Kris and to me to see such a young man at this level of denominational leadership. Nathan and Grace Yoder took us out to eat at a great old place called Quentin Tavern, and then Friday night we were at Brick House Cafe in Manheim where we had a discussion with local youth pastors about the redemptive movement and Tom Wright's new book on ethics and then on my
The Blue Parakeet: Rethinking How You Read the Bible
. Great time, and I could say more; great questions and lots of challenging thoughts.
It was great to be with Nathan, and to see Keith Miller again, and to meet so many others, including Michael Yoder and John and Stephen … don't remember all those last names … and folks who know our college President and his wife, David and Linda Parkyn. It was fun to see Tom Grosh, who writes in on the blog and FB. After the second session I got to spend a few minutes with leaders at Circle of Hope from Philly — great missional work.
I was there to speak to the leaders about becoming more missional, and they asked me to address the Jesus Creed and being the presence of Jesus. I'll avoid outlines, but I want to emphasize a set of connections I think important to understand the Church, and individual followers of Jesus, as the missional presence of Jesus. Here are the connections:
Read Matthew 4:23 and then read 9:35 [texts after the jump], and observe that these two texts frame Matthew 5–9 as the mission of Jesus (robust discipleship, robust redemption). With that connection, we move to Matthew 10:1 where it is up fron and central that the followers of Jesus are charged with roughly the same thing Jesus did in Matthew 5–9. That is, they are charged to extend Jesus to the rest of Israel. Finally, jump to Matthew 10:40-42, where we read that how we are treated (as Jesus' missional agents) is how people are treating Jesus and how folks treat Jesus is how they treat the Father who sent him. That's our missional presence of Jesus in the world.