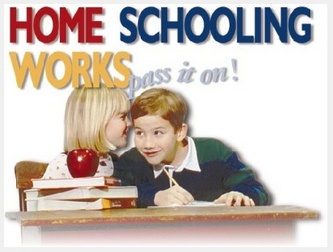 On
homeschooling
… What do you think of the homeschooling movement in the USA? The numbers are more significant than you might think (see below after the jump). My father was a public school teacher; Kris' father was a public school teacher; we have other family members who are public school teachers; we have uncles and aunts who are public school teachers. We're for public education. Many parents are not.
What are the major reasons why parents choose to homeschool? Is homeschooling capable of providing social education? What are the advantages of homeschooling? [By the way, I've got a few homeschooled students now in my college classes.]
Here's a clip from the Time.com article on homeschooling and how a German couple sought asylum in the USA because of their choice to homeschool their children.
Uwe and Hannelore Romeike are not like other asylum seekers, people fleeing war or torture in places like Afghanistan, Iraq or Somalia. They're music teachers from a village in southern Germany. And yet, in what appears to be the first case of its kind, the couple and their five children were granted asylum in the U.S. last week by an immigration judge who ruled that they had a "well-founded fear of persecution" in their home country for engaging in what has become a popular albeit somewhat controversial American practice — homeschooling their children.

The Romeikes, who are Evangelical Christians, took their three eldest children out of school in the town of Bissingen in 2006 because they were concerned about the impact the government-approved curriculum and the public-school environment would have on their social development. "Over the past 10 to 20 years, the curriculum in public schools in Germany has been more and more against Christian values, and my eldest children were having problems with violence, bullying and peer pressure. It's important for parents to have the freedom to choose the way their children can be taught," Uwe Romeike said in a statement provided by the couple's attorney, Michael Donnelly of the Virginia-based Home School Legal Defense Association (HSLDA)….

So they moved to Tennessee, got asylum …
Memphis judge Lawrence Burman's ruling sparked outrage in Germany. Authorities in the state of Baden-W?rttemberg, where the Romeikes had lived, angrily dismissed suggestions that the couple had been persecuted. "We have compulsory schooling, and this law applies to everyone, including the Romeikes," says Thomas Hilsenbeck, a spokesman for the state Education Ministry. "If parents don't want to send their children to a public school, they can send them to alternative private schools."

While there is a thriving homeschool movement in the U.S. — some 2 million children are now taught at home, or about 4% of the total school-age population, according to HSLDA — it is still a very new concept in Germany. According to the German media, there are only between 500 and 1,000 families in the country who homeschool their children — most in violation of the law. According to the compulsory-education statute introduced by the Prussians in the 18th century, all children must attend school from the ages of 6 to 16. And it's traditionally been viewed as a child's right rather than an obligation. "Compulsory schooling is one of the greatest social achievements of our time," Josef Kraus, head of the German Teachers' Association, tells TIME. "This law protects children."