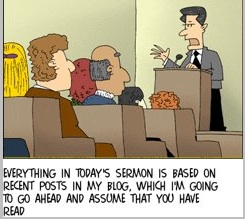 John LaGrou is avant garde when it comes to the power and value of technology. In this post, he questions the long term value and survival of the Sunday sermon. What do you think?
Antoine at MMM
asks, "How Do Faith-Based Organizations Respond to Increasingly
Mobile-Connected Members and Communities?" This isn't just a
good question. I think it echoes a central dynamic shaping not just
religion, but all social organization going forward.
How do faith-based organizations respond to virtuality? The hardest
part may be convincing the community that there's a good reason to sit
and stare at a stage, listening to a religious lecture. The
virtually-connected church now has on-line access to the finest
teaching and preaching imaginable, accessible at their convenience, 7 x
24 x 365. Of what value is physically proximate information (e.g.,
stage-centric pastor) when the average person can now access the best
sermons, preaching, teaching, and cross-referenced commentary on-line?
Finding better information elsewhere, the virtually-connected
community will restructure their physical gatherings to really
connect and be present with each other – like they do on-line
all week long. When this happens, pastors can step off the stage and be
released to really pastor. Gifted teachers (who may or may not have
pastoral gifts) can teach in smaller groups where true interactivity
can take place. Intimate, organic F2F gathering becomes the central
focus, not a mid-week breakout session.
I listen to the world's finest theological discourses via my
Blackberry while I workout at the gym or on my morning walk or driving
in my truck. Why would I spend my time sitting in an audience every
Sunday to hear a comparatively mediocre religious talk? In the last few
weeks, I have absorbed hours of profound spiritual monologues and
conversations with people like Tozer, Yancey, Peterson, and Fr. Rohr.
We all have something to contribute, together. A
virtuality-connected community (which is everyone in my son's
generation) will increasingly mimic their on-line engagement in F2F
gatherings, signaling the end of the monologue church era. "Church" is
redefined, in part, from a place of one-way information transfer to a
distributed gathering which fosters authentic collaboration – in many
ways mirroring the multi-way virtual experience.
Is it the end of the Sunday Sermon? No. Not in my lifetime, nor in my
son's lifetime, nor perhaps anytime. And certainly there is a place for
the stage. But generational changes in networking assure that a
profound shift is coming. And this gives me great hope for a virtual
reformation in the way we live as a glocal spiritual community.